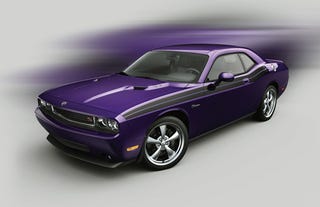 What do you do when you have one remaining exciting car in your lineup and seem to have little product coming down the pipeline? You go Plum Crazy! Introducing the 2010 Plum Crazy Challenger R/T. Full-sized render below.

This first rendering of a car we gossiped about ages ago shows the new color, which we imagine will follow a similar route as the Challenger R/T Classic in serving as both a special design package and a trim-level. If you liked the original, this is at least the same color.
We're still waiting for the Anti-Establishment Ford Fiesta.