SlingshotForums member SlingMods is the first actual owner to report taking delivery of the new Polaris Slingshot. Here's what his first weekend driving the strange and superfast tricycle was like.
Initial impressions, as posted to SlingshotForums:
First Drive. Let me start out by saying that i'm 6'2" and 220 lbs. My first drive was 5 hours including the Famous Mulholland Canyon.

Side View Mirrors: The side view mirrors are way too low for my height. I would say they're geared more towards a height of 5'8"-5'10". You have to duck down to use the side view mirrors.

Stalling: When downshifting from 2nd to 1st.. the engine goes too low in rpm and almost stalls coming up to stop signs or stop lights.
Hood Latches: Careful with your hood latches. There are 4 of them and you have to listen for the click to know they are closed. The dealer left one clip unfastened and i noticed the hood lifting on the way home a few inches. I had to pull over on the freeway to latch.

Steering: The steering is quite responsive and feels like a much more expensive vehicle than it is.

Seats: Seats are extremely comfortable, but I could see the need for a harness belt system if you like canyon running.

Rear Tire: We're going to burn through alot of rear tires. Traction control lets you have quite a bit of freedom allowing you to drift slightly out of each apex. I never felt like i was not in control even when the rear was sliding.

Acceleration: It's pretty snappy in low gears and you can really feel the torque. 4th gear is definitely freeway gear if you want any power.

Celebrity Factor: I've owned a Viper, Nissan Gt-r, Porsche Cayman S, C63 and S63. I've never seen peoples jaws drop as you drive by them. People are in awe of this thing from 5 to 90 years old. Seriously, at least 100 phone pics from cars next to me on the 1 hour drive home.

Cornering: Only my first time out.. but i pushed it to see where the breaking point was. It's a pretty unique feeling with the control you have with 2 wheels up front and such a light rear end. The front end pulls you through the corners while the rear just slides around.

Transmission: The transmission is dialed in. My porsche was the best transmission of any car i've owned so far. This is 2nd for ease of use and "no clunking" between gears.

Windshield: I'm 6'2" and the top edge of the windshield was a few inches below my line of sight... exactly where i want it. I could see the top edge of the windshield being problematic and directly in your line of site at a height of 5'10' or so.

I'll post more data as I get more drive time in.
SlingMods calls the traction control "more liberal than automotive Traction Control Systems," saying it was pretty easy to overspin the rear wheel: "You can spin the 'brand new' rear tire in 1st and 2nd gear at stock power levels."
He also mentions that the seat allows for more lateral body-motion than he'd like, and "the stereo is useless with a full-face helmet on," which makes sense I guess.
Apparently the California Highway Patrol has already given him grief for not having a front plate. (Which, as a motorcycle, as Slingshot shouldn't need).
G/O Media may get a commission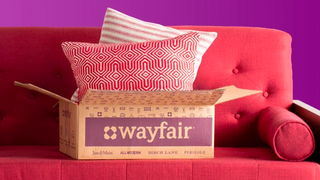 Big deals
Wayfair Surplus Sale
You can follow the thread to see his updates as he gets comfortable with the trike, and I'm sure more first-impressions will start coming in as deliveries are made.
Hat tip to Nick!