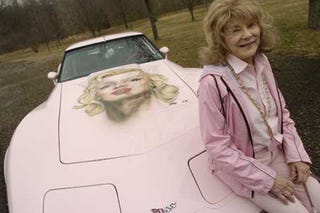 Donna Mae Mims, the first female SCCA (Sports Car Club of America) national champion, died last week. Her body's being displayed today in the driver's seat of her 1979 pink Corvette, per her wishes.
Refered to as the "Pink Lady" in a non-Nixonian way, Mims was an employee of Yenko Chevrolet and started racing in the late 1950s. By 1963 she was the SCCA National Champion, 45 years before Danica Patrick was the first woman to win an Indy Race, and in 1968 she raced in the inaugaral Cannonball Run in a giant pink Cadillac limo.
She lived to be 82 and, as part of her funeral, more than 60 Corvettes are expected to be in the procession.
Photo Credit: Pittsburgh Tribune-Review