This is The Morning Shift, our one-stop daily roundup of all the auto news that's actually important — all in one place at 9:00 AM. Or, you could spend all day waiting for other sites to parse it out to you one story at a time. Isn't your time more important?
1st Gear: Chrysler's IPO: A Mini Explainer
We mentioned yesterday that Chrysler is filing for an IPO, but they're not really filing for an IPO. So WTF is going on? CREAM.
G/O Media may get a commission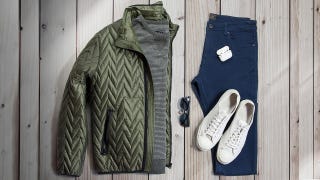 60% off
Jachs NY Fall Sale 60% Off
Back in 2007 when the world was just starting to unravel, the UAW formed a VEBA (voluntary employee beneficiary association) that allowed the Big Three to transfer their retiree healthcare benefits to someone else. As part of the Carpocalypse, the UAW VEBA agreed to take ownership stakes in GM and Chrysler instead of CASH MONEY.
This screws things up. While GM today bought back shares for $3.2 billion from the UAW trust, the 41.5% of Chrysler they still own, and Fiat wants, is being held up in a battle over cost. As Reuters reports, you can't just transfer Ford trust money or GM trust money to Chrysler, so the UAW wants that CASH MONEY.
Fiat wants Chrysler. The UAW wants cash. Should be easy, right? WRONG.
Fiat doesn't want to overpay (and can't get the money to overpay) for the stake. UAW has one shot at making this money and they don't want to blow it. Thus, this IPO has been filed as a taunt forced by the UAW trust to start an IPO in order to pressure Fiat into buying at a better price.
This could go right, but there are two key ways I see this could go badly if they actually do file for an IPO:
1.) Fiat decides they don't want to deal with this BS, allows the IPO to go forward, the UAW trust gets a valuation lower than what they'd have gotten from Fiat. This also cuts into Fiat's bottom line, limiting their ability to buy the rest of the shares held by the trust.
2.) The IPO goes forward, it gets a big market boost, Fiat can no longer afford to buy the rest of Chrysler because it's too expensive.
There's probably more to it than this, but the bottom line is Fiat and the UAW Trust have found more ways to screw themselves than help themselves. Ron Bloom, you're our only hope.
2nd Gear: About That Chrysler IPO...
Props to Chris Woodyard from USA Today for actually reading the damn IPO (I haven't yet), because if you do you'll notice (as he did) that Chrysler wants to build its first ever "small SUV" off a "small, wide" platform.
We know the new Jeep Cherokee is basically a heavily modified Alfa/Dart, so are they talking about something even smaller? Any ideas?
3rd Gear: About Small Chrysler SUVs...
Those Jeep transmission issues we talked bout aren't going away, even after they delayed the launch of the 2014 Jeep Cherokee.
According to The Detroit News, Jeep is idling production of the Cherokee over issues with the nine-speed transmission. You'll remember that the new Jeep was supposed to be in showrooms in July.
Still, better to get it right the first time… right?
"There's a lot of eyes on the Cherokee. And the vehicle isn't getting off on the right foot. It's critical that they sort out the issues," said Jeff Schuster of LMC Automotive. "It looks like that's what they're doing with this. In either case you've got a problem, but erring on the side of caution is better than rushing the vehicle to dealers with problems."
4th Gear: Volvo Trucks Cutting Money To Boost Profits
Volvo AB, the world's second- largest truckmaker, plans to lower annual spending by 4 billion kronor ($620 million) by reducing the number of white-collar workers and boosting production efficiencies.
Volvo aims to reach the savings target by end of 2015, the Gothenburg, Sweden-based truckmaker said in a statement Tuesday. The cost-reduction program will lead to charges of 5 billion kronor, the company said.
Please ignore that the Detroit News put up a pic of a Volvo car.
5th Gear: Our Friend Sera Gets A BMW/Article
The wonderful Sera Trimble, who we've got the frequent pleasure of hanging out with, gets an article in the WSJ today written by her and told to none other than A.J. Baime.
For my 30th birthday in January I bought myself a present—a BMW M3. I've been in almost every car that exists. So why this one? I love the handling, and it fits me. (I'm small.) Besides, I've loved M3s ever since I first got in one, back when I was parking cars in Seattle.
As far as we know she doesn't park it like an asshat.
Photo: Michal Czerwonka for The Wall Street Journal
Reverse: Honda Motor Company is incorporated
On this day, motorcycle builder Soichiro Honda incorporates the Honda Motor Company in Hamamatsu, Japan. In the 1960s, the company achieved worldwide fame for its motorcycles (in particular, its C100 Super Cub, which became the world's best-selling vehicle); in the 1970s, it achieved worldwide fame for its affordable, fuel-efficient cars. Today, in large part because of its continued emphasis on affordability, efficiency and eco-friendliness (its internal motto is "Blue skies for our children"), the company is doing better than most.
[HISTORY]
Neutral: Small Chrysler/Dodge SUV? What does Chrysler need to build? How should they build it?
Photo Credit: Getty Images