Fiat Chrysler's truck success, Carlos Ghosn's reported impending arrest, General Motors' continued cuts, Audi's investments into electrification and autonomy, and November sales reports. All of this and more in The Morning Shift for Tuesday, Dec. 4, 2018.

1st Gear: Fiat Chrysler's Trucks and SUVs Are Raking In the Cash
Automakers that still report sales monthly started publishing their November numbers from the U.S. this week, and amid slowdowns and modest gains from a lot of companies, Fiat Chrysler posted a huge leap of 17 percent.
Why, you ask? Trucks and SUVs.
FCA's sales report from November said it sold 181,310 vehicles in the U.S., up 17 percent from November 2017—a huge jump compared to other automakers. But that wasn't the only big figure in the company's November report, because Ram trucks took the biggest spotlight. From Bloomberg:
Fiat Chrysler Automobiles NV was first with a plan to cull its car lineup. A week after General Motors Co. followed suit and sounded a death knell for many of its sedans, the merits of this move are coming into clearer focus.

Fiat Chrysler's 17 percent jump in November U.S. deliveries led a better-than-expected month for the industry. The seasonally adjusted annualized rate of sales accelerated to 17.55 million, according to Automotive News, exceeding analysts' average estimate of 17.3 million.

The standout figure in Fiat Chrysler's results was a 42 percent surge in Ram pickup sales. Combine that with gains of at least 20 percent for the Jeep SUV brand's Cherokee, Wrangler and Compass models, and it's easy to see Fiat Chrysler's strategy of focusing on light trucks is paying off.
G/O Media may get a commission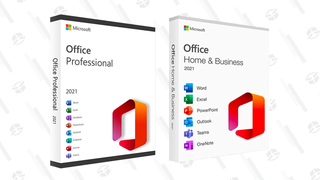 95% off
Cyber Monday - Lowest Price Ever - Microsoft Office Lifetime License
Here's a quick rundown of the sales, by brand rather than by model:
Yeah, Fiat Chrysler did well last month.

2nd Gear: Carlos Ghosn Expected to Be Arrested, Again
Former Nissan and Mitsubishi chairperson who's somehow still the CEO of Renault, Carlos Ghosn, is expected to be arrested again soon, Bloomberg reports via the Sankei Shimbun Japanese newspaper. Ghosn was arrested the first time for financial misconduct, and this re-arrest will reportedly be for understating his income more than had previously been reported.
News of the arrests of Ghosn and Nissan board member Greg Kelly came out on Nov. 19, when it was reported that Ghosn under-reported about $88.6 million in compensation as half of what it was. That under-reporting took place over the course of about five years, Reuters reported at the time.
But reports now are that the original arrest numbers might not have been high enough, and that law enforcement plans to re-arrest both Ghosn and Kelly. The under-reporting estimates above happened over five years ending with fiscal year 2014, Bloomberg reports, and the new claim by prosecutors ends with fiscal year 2017. From the story:
Prosecutors plan to re-arrest Ghosn and Greg Kelly, a fellow member of Nissan's board, on Dec. 10, Sankei reported, citing people familiar with the matter. The prosecutors believe that Ghosn's pay was understated by about 9 billion yen ($79.2 million), the newspaper said. [...]

Nissan representatives weren't immediately available to comment on the report outside normal business hours.
There's more on the Ghosn story here.
3rd Gear: GM Begins White-Collar Job Cuts
General Motors has made more cuts than an indecisive scrapbooker lately, but with people's livelihoods on the line instead of just some patterned paper. The company confirmed major restructuring plans on Nov. 26, which started with plant shutdowns, discontinuing small cars and cuts of up to 14,000 workers. The plan also included the closures of five North American plants, all of which was billed as "investing in the future."
That Nov. 26 report hinted at the process of "reduc[ing] salaried and salaried contract staff by 15 percent, which includes 25 percent fewer executives to streamline decision making." It seems like the time for those cuts has come.
Here's the deal with the start of GM's white-collar cuts, which the automaker confirmed to Automotive News Monday have already hit "very small number" of contract employees, via the outlet:
General Motors is already cutting some white-collar contract workers, a month ahead of announced plans to significantly reduce its internal salaried work force. [...]

The confirmed reduction in contract workers comes a week after GM closed a voluntary round of buyouts to roughly 18,000 salaried employees with 12 or more years of experience.

GM, which did not meet its internal targets for the buyouts, is expected to cut about 8,100 of its 54,000 North American salaried workers, including a 25 percent reduction in its executive ranks, through voluntary and involuntary actions.
A GM spokesperson told Automotive News that these early cuts were isolated, but that the company has been "significantly reducing" contract work in its cost cuts. GM wouldn't tell Automotive News how many contract workers it employs or how many it plans to cut, but the spokesperson told the outlet that more cuts to internal salaried workers are expected next month.
4th Gear: Audi's Dumping $16 Billion Into Electrification and Autonomy
Much like every other automaker ever, Audi's dumping some serious cash into electric and self-driving car tech, along with the "digitalization of its cars and plants." The magic number this time is a $16-billion investment through 2023, according to Reuters. The company's plan is to have around 20 electrified models by 2025, with half being fully electric.
To recoup some of the cash it's going to dump into the future, Audi's planning to make cost cuts all over the business. From the story:
Overall, the company's total projected expenditure for the next five years amounts to $45.6 billion, the company said. [...]

Audi is introducing three new-generation volume electric cars. The first, the e-tron crossover, is now being rolled out in Europe. The e-tron Sportback arrives late next year. Audi gave a glimpse of the third model, the e-tron GT, with a concept at the Los Angeles Auto Show last month. The GT concept's production version is due to go on sale in 2020 as a rival to the Tesla Model S. [...]

The automaker is working with Porsche to develop a new electric platform called PPE, or premium architecture electrification, for large electric cars. It plans a full-electric compact hatchback using parent Volkswagen Group's MEB electric platform.
And, of course, with all of this focus on autonomous cars, they'll surely be on the road and flawless within a few years. Not.
5th Gear: November U.S. Sales Reports
As we said earlier, automakers started reporting their monthly sales from last month this week. As expected, the numbers looked much as they usually do: Crossovers and SUVs are the thing, while sedans are just meh.
Here's the rundown, as well as links to additional information.
Reverse: The Mars Pathfinder Mission's First Day
The Mars Pathfinder mission launched from Cape Canaveral, Florida at 1:58 a.m. ET on Dec. 4, 1996, according to NASA. The rover landed, communicating data from the planet until Sept. 27, 1997.
Neutral: What Most Surprised You With Sales Reports?
The Toyota Camry, honestly, continues to be a trooper in the sedanpocalypse.