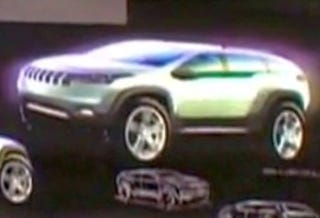 When Fiat bought Chrysler, Jeep's future was murky. Would we see Panda-based Wranglers? This terrible web video shows off a compact Jeep probably on Fiat's C-Evo platform. Better change the tagline to "The things the Italians make, make us." Updated

Update: We just got an email from Scott Anderson, Chrysler's Editorial Director for online media who tells us:
"While we certainly appreciate the interest, the clay model and sketches in the YouTube video represent past design studies, not the future of Jeep design. This and similar videos are targeted toward college students and the youth market in general, to build excitement about the Jeep brand, and to provide a glimpse into some of the processes we go through to create iconic Jeep vehicles."
Still, a design study indicates intent, and this video shows intent to built another crossover Jeep.
[via Autoblog]