This is the Morning Shift, our one-stop daily roundup of all the auto news that's actually important — all in one place at 9:00 AM. Or, you could spend all day waiting for other sites to parcel it out to you one story at a time. Isn't your time more important?
---
1st Gear: Meet The New Fiat "Cinque Mille"
This is the Fiat 500L, the fourth addition to little Italy's lineup, revealed ahead of its official debut at next month's Geneva Motor Show. As you'd expect, the "L" in 500L stands for "large." The two-more-door-500 has dimensions that sound very un-500-like — 13.6 feet in length, 5.8 feet in width, and 5.4 feet tall. Inside, there's seating for five. Even more astonishingly, we're told a seven-seat version is expected to be launched for European markets. Maybe instead of "cinquecento", we should call this the "cinquemille." But anyway, how'd they stretch the 500? Easy — they didn't. Because this isn't a 500. Nope, instead, Fiat's built this 500-in-name-alone off the larger Fiat Punto hatchback's platform. That means that in all likelihood, we should expect it to come in both front-wheel and all-wheel drive flavors. As for powertrains, the U.S. version will likely come with the 1.4-liter MultiAir engine — hopefully with a bit more "oomph" than the 101 horsepower and 98 pound-feet of torque you get with the 500. No word on whether we'll see an Abarth AWD version. I mean, how sweet would that be?
---
G/O Media may get a commission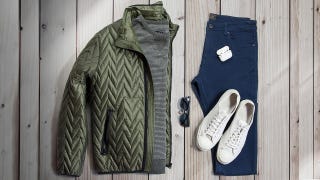 60% off
Jachs NY Fall Sale 60% Off
2nd Gear: Audi Drops R8 GT Spyder Pricing
Audi released pricing yesterday for the 2012 R8 GT Spyder of $211,200 with destination. Remember, only 333 of the all-wheel-drive, Lamborghini-V10-engined drop-top will be built, and a mere 50 are coming to the United States. Audi built the same number of hardtop GTs, but more — 90 — came stateside. Is it worth it? Well, engine output pops up to 560 HP and 398 lb-ft of torque. The 5.2-liter, direct-injection V10 will go from zilch to 60 MPH in just 3.8 seconds, with a top speed of 197 MPH. So you tell us — is it?
---
3rd Gear: Blame Canada! Camaro ZL1 Begins Production In Ontario
Yesterday, the General Motors plant in Oshawa, Ontario, celebrated the start of regular production of Canada's fastest export — the 2012 Chevrolet Camaro ZL1. "This is an exciting new chapter in the ongoing revival of the tremendously popular Chevrolet Camaro," Kevin Williams, president and managing director of GM of Canada, said in a press release. "The new 2012 Camaro ZL1 further demonstrates the flexible capabilities of the award-winning Oshawa Assembly Plant." So now Mustang fan-boys have one more reason to hate Canada.
---
4th Gear: Ford Super Duty Getting More Gassy?
One of PickupTrucks.com's friends sent them shots of a Super Duty running around Michigan with a boat-load of test equipment inside and outside the bed of the pickup. Although there's little to see, the front end does appear to have some cooling sensors and camouflage. Their guess? A CNG or LPG aftermarket company. What do you think?
---
5th Gear: This Is The 2012 Mercedes-Benz A-Class Five-Door
CarScoop tells us this morning that a bicyclist captured footage of a completely undisguised all-new 2012 Mercedes-Benz A-Class hatchback while riding from El Golfo to Playa Blanca on the Spanish island of Lanzarote in the Canary Islands. It seems that the German automaker was on the island catchin' some rays, doing some surfin', oh, and shooting marketing video and photos. So, you know, if you were interested in the new mini-R-Class, here ya go.
---
6th Gear: Nissan Leaf Crashes, Doesn't Explode Into Flames
On Tuesday, an all-electric Nissan Leaf rear-ended an empty school bus in Oregon. But don't worry, Auto Blog Green tells us the batteries did not catch fire...yet. We'll just see about that in about three weeks, won't we?
---
Reverse:
⏎ January 2012 Top 10 Pickup Truck Sales. [PickupTrucks.com]
⏎ Detroit Three road gets tougher now. [Detroit Free Press]
⏎ Up early: Automakers find their inner rooster. [Automotive News]
⏎ F1 brawler Adrian Sutil fights with Lewis Hamilton, his only friend. [World Car Fans]
⏎ BTCC: Chevrolet withdraws for at least the 2012 season. [Motorsport.com]
⏎ Ohio bill would limit left lane use to passing, exiting [Toledo Blade]
---
Today in Automotive History:
One year ago yesterday we launched a new redesign (Go ahead and tell us how much you love it in the comments below. Remember not to spare any flowery, glowing, and positive language you've got pent up inside about it!). One year ago today, we launched The Morning Shift, arguably the best thing to come out of the redesign. So, happy birthday to us! [Jalopnik]
Show us your tips!
Got tips for our editors? Want to anonymously dish some dirt on a competitor? Know something about a secret car? Email us at tips@jalopnik.com.
Lost in our new layout?
Click here for the Opposite Lock or Tips forums. Want a more "blog-like" look? Click the button up top next to "Top Stories."
Get more Jalopnik!
Want even more Jalopnik? Want to know which of your friends read us? "Like" us on Facebook and follow us on Twitter.