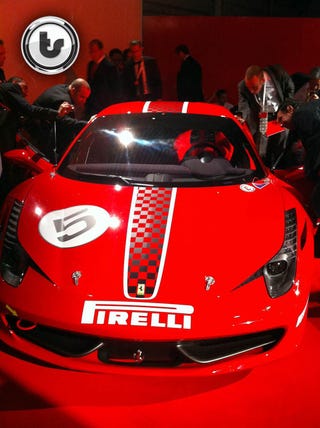 Just as the Ferrari 458 Italia's usurping the F430, this track-ready 458 Italia Challenge will replace the F430 Challenge in competitive single-series trophy racing for the well-heeled. First leaked pictures of the new car below.
These first unofficial photos of the 458 Italia Challenge are courtesy of the always well-connected crew at Teamspeed.com. Details are lacking, but it looks like the racing spec version will get an upgraded gearbox, stiffer suspension, better brakes, racing exhaust (check it out), racing slicks, fire suppression system, and other gear to make it ready for the track. We're also guessing it's dropped some weight.
Who needs a passenger seat when you look this good?