This is The Morning Shift, our one-stop daily roundup of all the auto news that's actually important — all in one place every weekday morning. Or, you could spend all day waiting for other sites to parse it out to you one story at a time. Isn't your time more important?
1st Gear: This Is The Recall That Never Ends
Chrysler kind of dodged a bullet when they were allowed to disavow any sort of blame in a series of fires involving Jeep Libertys and Grand Cherokees and instead offer to "fix" these vehicles by offering tow-hitches that would somehow prevent the gas tank from being ruptured and lighting up like P-Funk on their swing through Denver.
And even then, with this sweetheart semi-nonsense deal, Chrysler still can't get their shit together.
"They've got to get their act in gear," NHTSA's David Friedman told reporters Thursday after a Senate hearing on auto safety. "They've got to make sure that they are getting those parts in the hands of consumers. They've told us that they have nearly 400,000 parts, and yet we're getting complaints from consumers saying the dealers are telling them there aren't any parts."
G/O Media may get a commission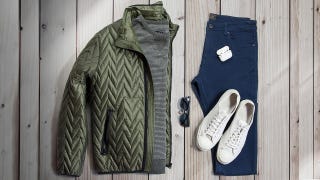 60% off
Jachs NY Fall Sale 60% Off
Ok, but why the rush to fix things that are maybe not fixable?
However, the agency acknowledged Thursday that trailer hitches will not offer additional protection in high-speed crashes. It said its investigation found hitches provide incremental safety benefits in certain low- and moderate-speed crashes. Chrysler has said since 2013 that the fix would not address high-speed crashes in which most of the reported deaths have occurred.
The cost of moving the gas tanks in these Jeeps is essentially astronomical, meaning that they had to come up with some solution and, even though the solution doesn't seem that effective, NHTSA can't afford to let Chrysler just use the GM recall to ignore their own shit.
Still, it's all nonsense.
2nd Gear: Honda's Kind Of Brilliant Push To Get People To Recall Cars
Honda is full of bright people and, though I don't always agree with the choices they make, there's clearly a lot of mental horsepower in the company. Because this, via Bloomberg, is actually quite smart.
Since they can't make people get their recalled cars fixed despite the mountain of hell that collapses on them every time someone dies, they told a Senate committee they'd like to see state lawmakers pass laws stating you can't get your car renewed until you get a recall fixed.
Other automakers are generally supportive of this because, despite popular belief, automakers really do want you to get your cars recalled.
3rd Gear: Takata Is The Worst
In case you didn't know, Japanese air-bag supplier Takata is not only shitty at their job, they're shitty at dealing with the world in that way certain Japanese companies are. They apologized at a Senate hearing yesterday, but their overall response was pretty weak and guarded.
First, the apology, via Bloomberg:
"We are deeply sorry and anguished about each of the reported instances in which a Takata air bag has not performed as designed and a driver or passenger has suffered personal injuries or death," Hiroshi Shimizu, senior vice president in charge of global quality assurance, testified to the Senate Committee on Commerce, Science and Transportation.
Takata also pushed back on the idea of a national recall, saying it would slow down their ability to get kits to people in high humidity states where they're needed.
4th Gear: GM Expands Roles For Two Women Execs
Even before Mary Barra took over GM the company had a better-than-average record when it came to promoting women with the company (granted, the average is pretty terrible).
SO it shouldn't be surprised that they were expanding the roles for two women in the company. I'll let Greg Gardner explain:
Alicia Boler-Davis, currently senior vice president for global quality and customer experience, remains a senior vice president, but will oversee GM's global connected experience. She retains her quality and customer relations duties while adding oversight of all connected consumer operations, including OnStar and its call centers.

Grace Lieblein, who has been vice president for global purchasing and supply chain, becomes vice president for global quality. In that role she will focus on building better relations with suppliers to improve quality in future vehicles. Both Boler-Davis and Lieblein report to CEO Mary Barra.
There were some other people moving around as well, but who cares.
5th Gear: VW Tightening Their Belt But Also Spending $106 Billion
You gotta spend money to make money, meaning that even though VW is trying to control their costs they still have to spend money.
Volkswagen Group Chief Executive Martin Winterkorn said: "We will continue to invest ... to become the leading automotive group in both ecological and economic terms with the best and most sustainable products."

Around 41.3 billion euros of the investment plan will go toward developing a range of sports utility vehicles, modernizing part of the light commercial vehicle portfolio and towards developing hybrid and electric drives.

At the same time, investments are also planned in new vehicles and successor models in almost all vehicle classes, which will be based on the modular toolkit technology and related components, the company said in a statement.
And hopefully a RWD diesel wagon. Right? RIGHT?
Reverse: The Last Time It Wasn't Backed Up
On this day in 1927, Time magazine puts the week-old Holland Tunnel on its cover. The tunnel, which runs under the Hudson River between New York City and Jersey City, New Jersey, had opened to traffic the week before, at the stroke of midnight on November 13. (Earlier that day, President Calvin Coolidge had ceremonially opened the tunnel from his yacht on the Potomac by turning the same key that had "opened" the Panama Canal in 1915—Time called it "the golden lever of the Presidential telegraphic instrument"—which rang a giant brass bell at the tunnel's entrances.) On that first day, 51,694 vehicles traveled through the tunnel.
[HISTORY]
Neutral: What do you think of the no-renewal-until-recall-fix proposal?
Is it big brother interfering or does it make sense?
Photo Credit: AP Images