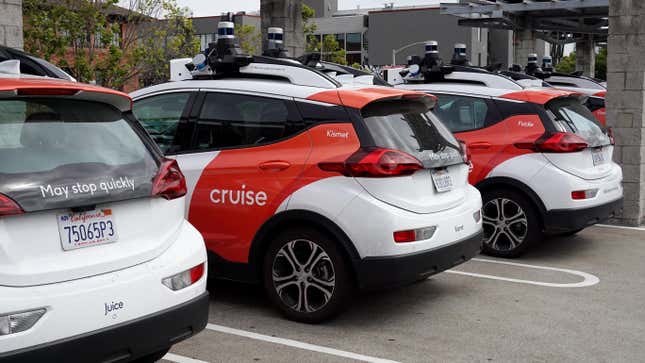 Lawmakers in Washington are reportedly looking to reignite much-delayed legislation on the safe and regulated adoption of self-driving vehicles. According to Reuters, a congressional hearing is now scheduled for July 26. That panel will consider separate draft legislation from Republican Representative Bob Latta and Democratic Representative Debbie Dingell.
The outlet reports that legislation on autonomous vehicles has been stalled in Congress for over five years. Politicians will be looking at how to amend regulations to include self-driving cars, and a big part of that is the scope of consumer and legal protections. The hearing will be convened by the House of Representatives Energy Commerce subcommittee on Innovation, Data, and Commerce called the "Self-Driving Vehicle Legislative Framework: Enhancing Safety, Improving Lives and Mobility, and Beating China." Good lord, that is a mouthful, isn't it?
Reuters reports that the Transport Workers Union president praised Dingelk's proposal because it "prioritizes pro-worker technologies, holds AV companies accountable for proving their products are truly safe, and makes it clear that commercial AVs will need to live up to the high standards working people have created for safety."
A number of lawmakers and industry leaders have been urging Congress and Transportation Secretary to act and come up with a federal framework for autonomous vehicles. However, not everyone is so on board with autonomous vehicles. The president of the Advocates for Highway and Auto Safety said Congress should be taking action to make roads safer, not open them up to "unproven and unregulated vehicles."
According to Reuters, a number of people in Congress aren't happy with how little Congress has done in regard to autonomous vehicles.
House Energy and Commerce Committee Chair Cathy McMorris Rodgers and subcommittee chair Gus Bilirakis said in a joint statement that "inaction over the past two Congresses has put America at risk of ceding leadership in this industry to China. In order to ensure Americans can reap the benefits of self-driving vehicles, we must enact a comprehensive national law that establishes a pathway to safe deployment."
According to Reuters, some of the witnesses expected to be called include Alliance For Automotive Innovation CEO John Bozzella, Consumer Technology Association CEO Gary Shapiro and National Federation of the Blind President Mark Riccobono.
Things may be picking up steam in regard to Autonomous Vehicle regulations. Last week, we reported that the National Highway Traffic Safety Administration said it would soon decide if General Motor's Cruise self-driving unit would be allowed to deploy 2,500 self-driving vehicles on the road annually without human controls.