Good Morning! Welcome to The Morning Shift, your roundup of the auto news you crave, all in one place at 9:00 AM every weekday morning. Here are the important stories you need to know.

1st Gear: People Just Don't Care
While 2014 was the year of the supercar. It was also very much the year of the recall. From GM to Takata, millions upon millions of cars were recalled for safety defects that could result in life changing or even life ending injuries.
The problem is that many of these cars won't get repaired because people are lazy.
G/O Media may get a commission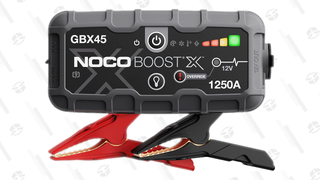 13% Off
Noco Boost X GBX75 Jump Starter
NHTSA and the automakers want to change that.
Automakers met with NHTSA yesterday to devise new ways let owners know that there car has been recalled and needs to be fixed PDQ. GM was pretty aggressive with how they got the word out last year, using YouTube, Yahoo, and offering loaner cars. Bloomberg notes that some dealers in Texas even offered free tickets to the state fair.
That resulted in 98 percent of owners knowing there was a recall, but even then many cars went unfixed. Even a year and a half after a recall is issued, the industry average shows that a third of the cars that need to be fixed are still on the road unrepaired.
Hopefully these new strategies will get owners off their asses and into the dealer to get the cars fixed.
2nd Gear: FCA To Discuss What Sort Of Deal It Wants
Fiat-Chrysler will report its earnings today, but a lot of the focus will be on the talk of consolidation and merging with another automaker that CEO Sergio Marchionne has been obsessing over for months.
The questions are expected to address the sort of consolidation that the brand wants to see and who they might be looking to merge with. There is also the chance that some major news, like where the next Jeep Wrangler will be built, could be announced during the call. They've made news like this before on an earnings call, wouldn't be a shocker for it to happen again.
3rd Gear: China Cutting EV Incentives
There's been a lot of talk lately about the need for more EV incentives in China as well as maintaining them here in the USA. Well, the incentives in China are getting a big ole cut in the next few years.
Between now and 2020, incentives will be cut by 40 percent, which is actually more than they initially said they'd cut them. The initial target was a 10 percent cut in 2017 and another 10 percent in 2020.
The idea is that by butting the incentives, automakers will be forced to build more competitively priced EVs, but if the tech just isn't there, it'll be rather difficult for them to do it without taking a big hit.
4th Gear: Aston Martin To Alabama?
We already knew that Aston Martin was considering a US factory to build the DBX electric crossover thing, but it now sounds like that factory could be in Alabama. There's a good reason for that choice of location.
Mercedes has a factory in Vance. Mercedes owns a chunk of Aston and has an agreement to supply engines. Also, the DBX could apparently be based on the GLC which will also be built in Alabama.
Astons in Alabama, whoda thunk it?
5th Gear: Jeeps In Brazil
Jeep is expanding a lot internationally, and part of that is a new factory that has just opened in Brazil. The Brazil factory will be a huge boon to the brand as they try and expand further in South America. It's already started cranking out Renegades.
The plant will employ 3,300 people by the end of the year with another 4,900 working at an adjacent supplier park.
Look for Jeep to make a big push in South America, it seems like a natural home for the brand and now that they can be priced competitively, they can expect to start selling a ton of them.
Reverse
On this day in 2004, the last Oldsmobile comes off the assembly line at the Lansing Car Assembly plant in Michigan, signaling the end of the 106-year-old automotive brand, America's oldest. Factory workers signed the last Oldsmobile, an Alero sedan, before the vehicle was moved to Lansing's R.E. Olds Transportation Museum, where it went on display. The last 500 Aleros ever manufactured featured "Final 500″ emblems and were painted dark metallic cherry red.
Neutral
How can automakers get you to pay attention to recalls better?