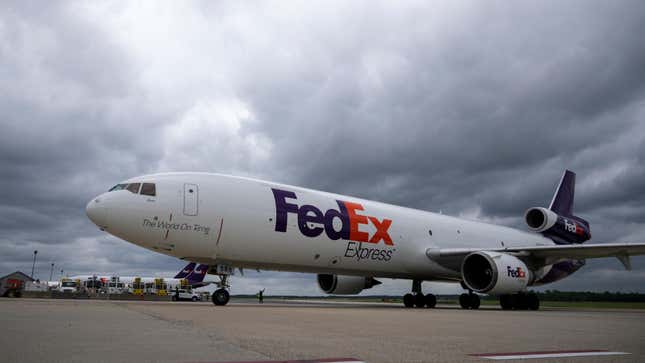 A Fedex Boeing 767 cargo plane nearly collided with a passenger jet at Austin-Bergstrom International Airport in Texas over the weekend. The near miss was just the latest in a string of incidents at American airports.
Air traffic control directed the Southwest Airlines flight to take off on the same runway a Fedex flight was cleared to land only moments before the Federal Aviation Administration told the New York Times:
The FedEx flight, traveling from Memphis, Tenn., was cleared to land on Runway 18-Left around 6:40 a.m. local time while it was several miles from the airport, the F.A.A. said.

"Shortly before the FedEx aircraft was due to land, the controller cleared Southwest Flight 708 to depart from the same runway," the agency said. "The pilot of the FedEx airplane discontinued the landing and initiated a climb out."

In an excerpt of radio transmissions of the episode posted on Twitter, an air traffic controller alludes to reduced visibility conditions, said Michael McCormick, a former F.A.A. control tower operator and an assistant professor of aviation science at Embry-Riddle University, which has its administrative offices in Daytona, Fla.

At one point, the Southwest flight is abruptly told to abort, according to the audio excerpt.
Air traffic controllers use many data points to keep planes going where they need to go. Along with advanced computer systems and constant contact with pilots, one of which is apparently just looking out the window, as a former FAA air traffic controller told the Times. Bad weather reduced visibility in Austin, exacerbating the near-miss, as did the Southwest flight's delay in taking off and clearing the runway.
The Southwest flight eventually made it to its destination — Cancun, Mexico — and the FedEx flight landed safely at Austin airport a short time after the incident. The FAA and National Transportation Safety Board are investigating the incident.
This incident comes only two days after a towed Boeing 787 plane clipped the wings of a parked 757 and only a few weeks after a pilot at John F. Kennedy Airport in New York misconstrued air traffic controllers directions, and crossed within 1,000 feet of a departing passenger jet.
Flying is getting more chaotic both for the limited number of air traffic controllers working on the ground and passengers trying to get up in the air. Pent up demand from COVID-19 lockdowns is clashing with airline staffing issues, plane shortages an increase in private flights complicating the skies and out-of-date technology which risks the entire nationwide system. Meanwhile, passengers are packing heat in their carryons at disturbing levels.