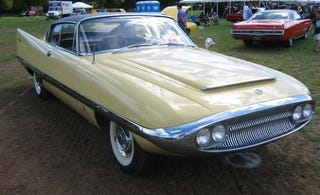 Ahhh, the Gold Coast, that stretch of far Southwest Connecticut where the real estate is lapped gently by the salt water of Long Island Sound and residents' asses are lapped gently by exotic car dealers. In a place where income is as disposable as toenail clippings there's bound to be some hotness, and I'm not talking about Stepford wives and the Postfather's favorite lemon tarts. I mean cars that draw from grown men the same sounds Marcus Vindictus made at Empress Nympho. Falls ends the summer concours season the way a blue light and metal grate end a moth, so I hope this gallery is enough to sustain us all until the next time we can lay eyes on a '27 Isotta Fraschini.
Words after the jump...
Everyone knows the importance of making a first impression. My first impression of the show was a '28 Maserati T-26B/M grand prix car. The official writeup for this car indicates it was a Grand Prix winner in 1930 and raced until WWII when it was hidden in an Algerian cave until the end of hostilities. The Afrikakorps burned, but this car still runs. See? Justice prevails.
I may be a "Who dat?" writer on this site, but anyone who knows me knows I can't resist Cords and Packards. Check out the 812 and the shot of the '29 Packard "Super 8" 320 ci straight eight. Of special note is the Pack's hood ornament, which looked like a girl on a water slide. You'll also see a '42 Packard 110 convertible elsewhere in the gallery.
There is a great story told by a favorite sports writer of mine about a time he found himself in a room with Anna Kournikova. He watched her walk in, but immediately averted his gaze and put on a "so what" attitude when she caught him. "Enough people fawn over her," he thought. "I don't need to be another one." Shortly later he looked up to see her defiantly making eye contact with him, and he melted on the spot. The point is: old Bentley cars will do this to me every time. Look at the '36 4 1/2 Liter Sports Coupe with the body by Vanden Plas and the '49 Shooting Brake and tell me it doesn't happen to you.
Almost everything at the show was worth a pause. Here was a '61 Maserati Sebring Vignale made to commemorate the marque's victory in the '57 race. You'll see a '60 Eldo in the background. Turn left and there is a van Goertz-designed '57 BMW 503 with a 3.2L V-8 and a '60 Ferrari California Spyder, a car that should be near and dear to the heart of anyone who has ever presented themselves as Abe Froman, Sausage King of Chicago.
Sometimes you have to go out and get lost just to see what's out there. Sometimes you get out beyond the boundaries of what you know and choke on dust, and sometimes you see a '58 Dual-Ghia concept with wings as high as your hip. This product of Dual Motors of Michigan was built on a '57 Chrysler 300 chassis and features a 400hp motor, a Ghia body, and an in-dash record player. Ronald Reagan purportedly owned one and lost it to one Lyndon Baines Johnson in a poker game.
Take a few steps with me and we'll see two vastly different cars with the same will to get sideways. In the foreground you'll see one '68 911 T/R homologation special. These came with either 160 or 200hp motors and this one has fender flares from a '72 added to qualify for later group racing. Behind it you can make out a Road Runner with an original 440 Six-Pack. A few generations of owners have made the world a better place by not spinning either of these cars into an immovable object. Bravo.
Under the Pebble Beach tent the cars were gem-like. Feast your eyes on the lines of a '38 Alfa Romeo 8C 2900. This one is a Superleggera with a body to die for... er, by Carrozzeria Touring. This car has a 2.9L eight cylinder (8C, get it?) with two Roots blowers and two Webers and put out about 180hp.
The Isotta Fraschini stood almost as tall as I am. The hood was shoulder-high and the glass hood ornament, a Rene Lalique original placed there when the Queen of Yugoslavia owned the car, was almost at eye-level. Isotta Fraschini makes marine engines now, but this Tipo 8A S features a Duesenberg I8 displacing 427 cubic inches.
Let's just take things back down to Earth, shall we? Wine, cheese and Franz Liszt are great, but you'll suffocate from your own smug if you don't get some malted hops in your system, and quick. An '84 Lamorghini Jalpa sitting outside the tent was my moment of re-entry. We do like the Jalpa.
Enough fussing with cars who shiver in the rain, look how becoming one can be when it's made to have mud, oil and bug guts splashed all over it - like this dirt track racer. In the early days cars that were raced on tracks raced on dirt ovals where horse races were usually held. Many communities had their own horse tracks, and the fairgrounds in Danbury, Connecticut were no different. This is a '35 Ford Danbury Fair special, and I wish it wasn't so clean.
You can only be star-struck when you're in the presence of this '61 Ferrari 250 TR1/61. This is the ex-Phill Hill '61 LeMans winner, ex-NART Stirling Moss, Innes Ireland, et. al. car. You see those velocity stacks under a clear dome, the way the body looks blown back by the wind and the number makes sense: this is a perfect ten.
Heavy clouds rolled in as I was taking a photo of a '70 Porsche 908. It was only the camera car used in the filming of the movie LeMans, not like you'd want decent lighting to shoot it or anything.
You'll see an orange dragster in the gallery, a '57 made by Chassis Research design with a flathead and a ScoT supercharger. How would you like to have all the moving parts in front of your face and the differential between your legs?
Louvers are another detail guaranteed to flip my switch, and a '53 Studebaker hot rod had a stated 400 of them. This one sported a 472 ci Cadillac motor, making it a "Studillac."
The best pair of cars at the show was an Alfa Romeo 6C 2500 parked next to a Bugatti 57C Cabriolet. These two represent some of the purest distillation of automotive come-hither ever to take to the open road.
The sun's rays came back out just in time to roar back at me off the perfect orange paint of a McLaren F1 and a nearby '65 AC Cobra - an FIA car bearing numbers which make it the very last example to run off the original tooling in Surrey, England.
What a show.