The F-35C took its first ride down a ship-borne catapult today as part of its ongoing inaugural sea trials aboard the USS Nimitz. This follows yesterday's history making event that saw a pair of F-35Cs, belonging to VX-23, landing on a carrier for the first time ever.
Once aboard, there is only two ways off a nuclear super carrier for a fighter jet. One is via a dockside crane, the other is by riding one of the ship's four catapults. Today, the 17 ton jet took the catapult option, and did so in grand fashion and repeated it a few times, along with more arrested landings.
G/O Media may get a commission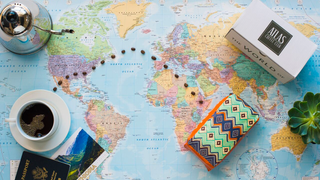 First Bag Free
Atlas Coffee Club - Free Coffee
Explore global coffee
With each bag, Atlas includes details on the coffee's tasting notes and a postcard about the region and its coffee history. And when you subscribe, you have options to tailor frequency, grind size, and roast preference of your beans, so you'll always be brewing the perfect cup.
Images via DoD.
Tyler Rogoway is a defense journalist and photographer who maintains the website Foxtrot Alpha for Jalopnik.com You can reach Tyler with story ideas or direct comments regarding this or any other defense topic via the email address Tyler@Jalopnik.com