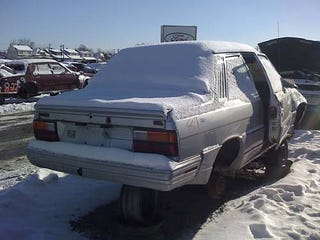 In spite of George C. Scott's endorsement, the Renault Alliance GTA failed to save American Motors. Few remain on the street today, but here's one that managed to evade The Crusher for more than 20 years.
We're not sure what part of North America is home to this GTA, but we can say it's probably not Los Angeles or Miami:
I noticed you do a lot of the junkyard posts on Jalop and I wanted to share these pics with you. I happened to find a 1987 Renault GTA at my junkyard. Funny, I never knew these things existed until reading about them in this "Automotive Atrocities" book I had just bought, I was pretty surprised to find it actually, I thought I'd get lucky and find a Renault Fuego at the same yard too, but no such luck. Anyway, enjoy.