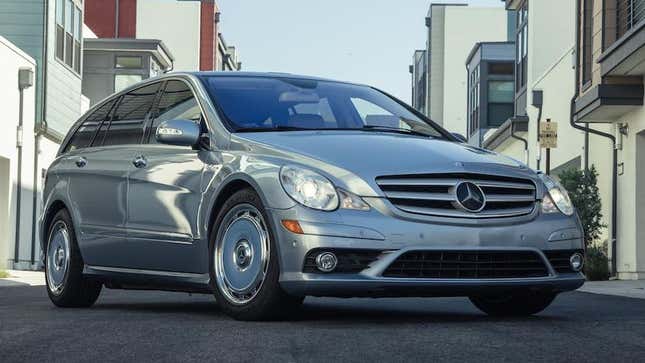 Not many people were asking for Mercedes to sell a minivan that technically isn't a minivan, but it introduced the R-Class anyway. And even fewer people asked for the R-Class to get the full AMG treatment, but it did. The result was the R63 AMG, an all-wheel-drive family hauler with seating for seven that also made more than 500 hp and could accelerate to 60 mph in the mid-four-second range. And if you're willing to spend a lot of money keeping it on the road, one of the most ridiculous cars ever made could be yours.
In case you missed it:
Motor1 found this auction over at The MB Market for a 2007 Mercedes-Benz R63 AMG with 144,000 miles on it. At the time of writing, the highest bid is only a hair over $16,000, but we don't expect it to stay that low for long. The R63 is rare, and we don't mean "only a few thousand were ever built" rare. We mean "only a few hundred were ever built" rare. We'd be surprised if there are still more than 100 left in the U.S.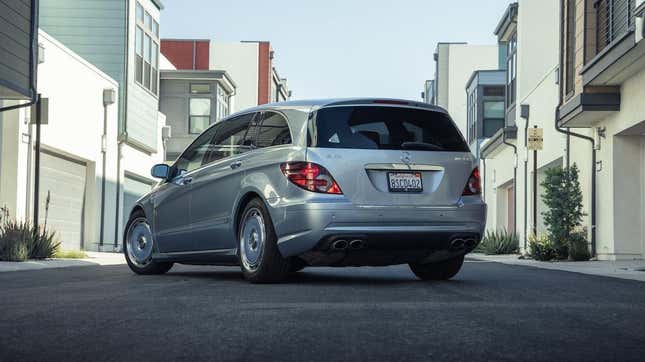 That's partly because if something goes wrong, owning an R63 can get expensive fast. One owner was infamously quoted more than $57,000 to have his engine rebuilt and ultimately decided it would be a better decision to buy everything himself and rebuild the engine in his garage. For comparison, that's more than the base price of a brand-new Mercedes-Benz E-Class if you don't include the destination charge.
But come on, just look at it. Sure, it's a risky buy, but who cares? No one's ever going to be able to afford to retire anyway, so just liquidate your 401(k) and buy the AMG minivan. You know you want to, especially with those wheels. You'll be the coolest parent in town, guaranteed. Or heck, buy it even if you don't have kids. There's no rule that you have to have kids to drive a 500-hp minivan.