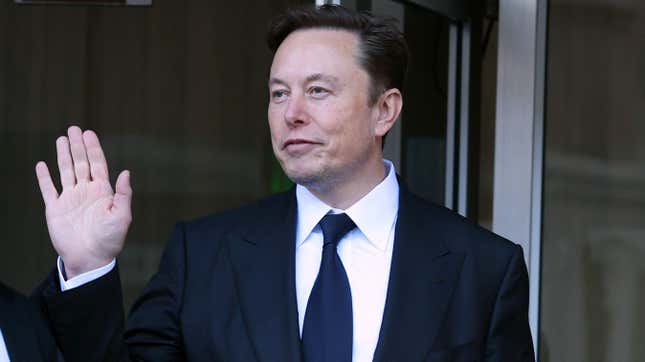 [Update: Monday, September 11, 2023 at 10:53 a.m. CT
The excerpts of Elon Musk by Walter Isaacson have been corrected. Isaacson's adaptation allegedly "mischaracterized" Musk's involvement in the specific Ukrainian attack on Russian ships; he had allegedly deactivated Starlink well in advance of the proposed attack, then refused to reactivate it per Ukrainian request. We have more on this update here.]
Honda's Motocompacto Is The Ultra Portable E-Scooter That Can Fit Just About Anywhere
Elon Musk by Walter Isaacson, an upcoming biography about one of the most controversial figures of our time, has taken over the headlines ahead of its official release on Tuesday, and CNN has gained access to an exclusive excerpt: Musk secretly ordered his engineers to turn off Starlink's satellite communications network last year in order to disrupt a Ukrainian drone attack on Russian military ships in the Black Sea.
As per CNN, Musk was afraid that the attack would trigger a nuclear retaliation — a fear he developed in conversations with senior Russian officials. As a result, he turned off Starlink's connectivity as Ukrainian submarine drones equipped with explosives approached the Russian fleet. The drones returned to shore.
CNN has more:
Musk did not respond to CNN's request for comment before publication. But he did respond to the Isaacson book excerpt late Thursday on X, the platform formerly known as Twitter that he owns, by asserting that the Starlink service provided by his company SpaceX was never active over Crimea and that the Ukrainian government made an "emergency request" to him to turn on service.

"There was an emergency request from government authorities to activate Starlink all the way to Sevastopol," Musk posted on X, the platform formally known as Twitter that he owns. Sevastopol is a port city in Crimea. "The obvious intent being to sink most of the Russian fleet at anchor. If I had agreed to their request, then SpaceX would be explicitly complicit in a major act of war and conflict escalation."
It was an interesting reversal from Musk, who had previously agreed to provide Ukraine with Starlink satellite terminals. It proved to be a critical move for the Ukrainian war effort after Russia destroyed cell phone and internet networks; Starlink was the country's primary connection to the outside world.
But Ukraine was involved in a serious military conflict, and Musk began to regret his decision when the country began to facilitate offensive attacks by using Starlink's connective capabilities.
All that is fascinating in and of itself — but the release of Isaacson's excerpt has inspired social media users to start connecting the dots between Musk and a social media suggestion from Ian Miles Cheong.
On October 9, 2022, Musk took to Twitter to ponder ways to de-escalate the war. Cheong responded with a suggestion to deactivate Starlink. However, it's unlikely that Cheong directly influenced Musk; Ukraine's military drones had begun washing up on Crimean shores around September 22, roughly two weeks before Cheong's post. It is likely that Musk had already made his decision to deactivate Starlink prior to his exchange with Cheong.
"How am I in this war?" Musk asks Isaacson, as reported in CNN. "Starlink was not meant to be involved in wars. It was so people can watch Netflix and chill and get online for school and do good peaceful things, not drone strikes."
Despite that lament, Musk has become a significant player in this international conflict. Text message exchanges between Musk and Mykhailo Fedorov, a deputy prime minister of Ukraine, show Fedorov pleading with Musk to reactivate the satellites — meaning that a billionaire has largely bypassed the standard means of engaging in war. And it hasn't made him popular within his own organizations. From CNN:
Gwynne Shotwell, Musk's president at SpaceX, was livid at Musk's reversal, according to Isaacson.

"The Pentagon had a $145 million check ready to hand to me, literally," Isaacson quotes Shotwell as saying. "Then Elon succumbed to the bullshit on Twitter and to the haters at the Pentagon who leaked the story."
According to Isaacson, Starlink provided Ukraine with additional satellite dishes at the start of 2023.