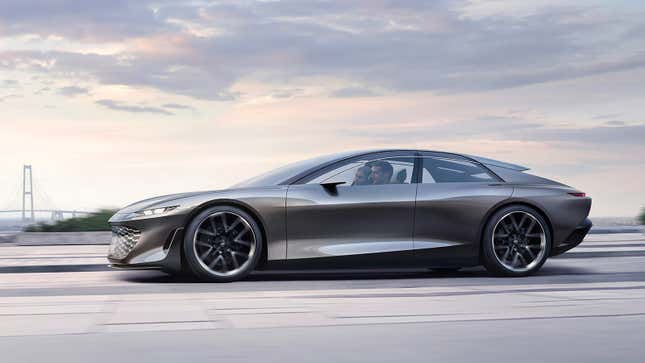 Audi has never exactly been a purveyor of edgy, obnoxious-looking automobiles, but if you've been paying attention to its concepts as of late — particularly the Grandsphere and Activesphere, a little less so the Skysphere — you could pretty much count all the creases on them on one hand. This is intentional, according to Marc Lichte, the head of design at the Ingolstadt-based manufacturer. Aggression is on its way out, and he believes the Russian invasion of Ukraine might've played a role in that.

Lichte reflected on Audi's new design philosophy in a recent interview with Top Gear. When asked what might've motivated the change to a "softer, more friendly, less aggressive" style, as he put it, the department head gave a somewhat unexpected answer:
"One reason is there is a war not far away [Ukraine] from here, which has an impact on everybody," he says. "It's one reason, I can imagine.

"The second reason is that the potential with this EV platform, especially automated driving, gives up so many opportunities to come up with something different.

"In the past there was always a combustion engine, and then there was a platform. Everything was fixed. And as a designer you thought 'How can I differentiate from competitors?'

"I don't like this aggressive styling, honestly speaking. There are so many more opportunities. That's why designers in general are not focusing on this aggressive design. That's my interpretation."
We've heard from designers time and time again that cars no longer requiring a heavy lump of metal ahead of (or sometimes behind) the driver allows for far more creativity with proportions. We're not exactly seeing that bear out yet — so far electric pickups look the way pickups always have, rather than Canoo's idea of a truck — but it's a slow process.
It's the other reason Lichte offers that comes as a surprise. At first, acknowledging the war in Ukraine might strike as a little weird. The 20th century was riddled with needless conflict, and cars didn't put on happier faces after each episode. Plus, Audi's in a rather privileged position here. When all this began, Herbert Diess — the then-CEO of Audi parent Volkswagen — was mostly concerned with the economic cost of a Russian energy embargo. Oh, grief has a funny way of manifesting sometimes, doesn't it?
But Lichte's not wrong. Entertainment, art and design always have a knack for reflecting trauma to some extent. It's why everyone suddenly escaped to their Animal Crossing island in the early days of the pandemic, or why some scholars attribute Japan's "culture of cuteness" with a desire to heal after the atrocities of World War II. I'm not an anthropologist, I post stories about cars for a living. But sure — if designers are disheartened at the constant state of everything, all the time, then you have to think that's going to influence their day jobs at least a little.
It's apparently one of the reasons we'll see a gentler Audi. I don't know if I would describe the Grandsphere as "friendly," and I have an inkling I definitely won't when a production version of the luxobarge inevitably cuts me off, signal forsaken. But broadly speaking, I'm all for cars that look less like they want to murder me.