Elon Musk thinking about letting someone else run Tesla, California and Trump are being cordial over emissions, GM has a big recall, and more await you in The Morning Shift for Thursday, Sept. 14, 2018.
1st Gear: This Is a Tad Surprising
Every time in recent weeks that I've felt like Tesla is about to settle down and find its groove, something else happens, and much of that—at least as of late—has to do with CEO Elon Musk's shoot-very-from-the-hip style. He's also splitting time between a million other companies, which sure seems like it could be busy.
Nonetheless, he's adamant: he must be at Tesla working nonstop. (Cutting back work hours isn't an option, Musk said last month.
But now—after sparking a SEC probe over a haphazard tweet and smoking weed with Joe Rogan—he's showing signs that he might welcome in someone else into the fold to run Tesla, reports Reuters.
[asset manager Baillie Gifford's James Anderson, the fund manager of Scottish Mortgage Investment Trust, which owns Tesla shares] told Reuters he has talked with Musk about the idea of bringing in another executive. Analysts have been calling for Tesla to add a chief operating officer or other new blood to top management. ...

Musk was "getting there" on the idea of accepting more help in running the company, Anderson said.

Anderson said that he had suggested to Musk his tweets are "not a great thing" and added that the firm had been talking to the SEC about Musk's proposal and financing claims.

"I don't know what they'll do with him, but there's no implication that we've done anything wrong," Anderson said in an interview at the firm's London office. "I think quite naturally they wanted to know whether major shareholders had any lead indication or knowledge of the tweet about 'funding secured.'"
G/O Media may get a commission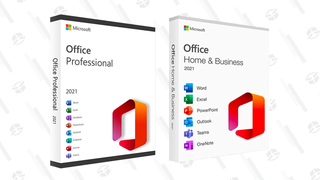 95% off
Cyber Monday - Lowest Price Ever - Microsoft Office Lifetime License
Best of luck to whomever assumes this role, that is, if Musk lets it happen.
2nd Gear: Tesla Struggling to Handle Customer Issues
At any rate, Musk logged on Wednesday to inform everyone that his number one priority right now is to deal with a backlog of customer issues, which is apparently a problem due to an uptick in "vehicle delivery volume" in North America.
Per Bloomberg:
Musk had responded minutes earlier to a customer who said the process of taking delivery of a Model 3 sedan had been a "nightmare" and that his delivery adviser hadn't been responding to emails. The CEO apologized and said he was "working on this exact issue right now."
Musk's twitter is a customer hotline now.
3rd Gear: California, Uh, 'Comforted' by Trump Officials
California is bracing for a legal battle with President Donald Trump's administration over the possible revocation of the state's waiver to set its own standards for tailpipe emissions.
But for now, California officials suggest they've been "comforted" by Trump's team, reports Bloomberg, which is worth underscoring given we're talking about Trump's team.
From Bloomberg:
Trump officials have told the state they're just seeking public comment on the possibility of challenging the California's power to write emissions standards that in some cases are tougher than the federal government's, Mary Nichols, the chair of the California Air Resources Board, said Tuesday in San Francisco.

Automakers have said privately and publicly that they don't want Trump to provoke an extended court fight with California and they won't urge the administration to take such a step, Nichols said in a briefing with reporters. These are arguments that mean a lot to lawyers, she said.

"We are comforted by the fact that we don't think this is a fight that's actually going to happen," Nichols said.
Something tells me this might change...
4th Gear: NIO has a decent first day on the NYSE
Chinese-backed electric car startup NIO went public and started selling shares on the New York Stock Exchange this week, which doesn't mean much for you, only that you now know NIO is raising money this way.
The startup's first day of trading didn't go exactly well at first, but Reuters reports things eventually turned around:
Shares of Chinese electric carmaker NIO Inc (NIO.N) recovered sharply from a 15 percent fall in their market debut on Wednesday, a day after the company's IPO was priced at the lower end of the expected range.

NIO shares rose as much as 11 percent to $6.93 in afternoon trading, giving it a market capitalization of $7.11 billion.

The rebound in shares was a welcome relief for NIO, whose offering came under pressure as investors have turned wary about electric carmakers due to struggles at its chief rival Tesla Inc (TSLA.O).
I really want to test out NIO's ES8.
5th Gear: GM Recalls a Whole Bunch of Vehicles
Imagine a world where no recalls exist. OK, now come back to reality: GM just issued a recall for more than a million pickup trucks and SUVs because the power-assisted steering "can briefly shut down," reports the Associated Press.
The recall covers certain 2015 Chevrolet Silverado and GMC Sierra 1500 pickups as well as Chevy Tahoe and Suburban SUVs. Also affected are 2015 Cadillac Escalade and GMC Yukon SUVs.

GM says the power steering can fail momentarily during a voltage drop and suddenly return, mainly during low-speed turns. A failure would increase the risk of a crash. The company didn't mention any crashes in documents filed with the government.
The update will come at no cost to owners, the AP notes, and no date has been set yet for the recall to begin.
Everybody now: Get your recalls fixed.
Reverse: Did You Get a Car?
Neutral: NIO
NIO's labeled the latest so-called Tesla killer, but it actually has a vehicle it's already delivering and it's got some funding to boot. What do you think about NIO? Think it'll survive?