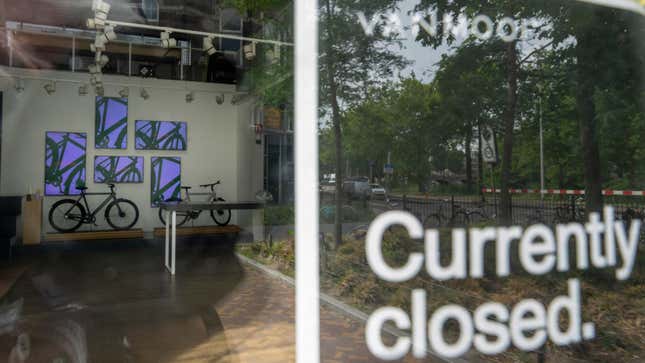 Dutch electric bicycle maker VanMoof has reportedly declared bankruptcy, and now its administrators are trying to figure out whether it can sell assets and restructure to save the company. According to Reuters, the company, which raised 100 million euros (about $112 million) to expand internationally as sales boomed during the pandemic, filed for protection from creditors last week. VanMoof reportedly said that a judge at the Amsterdam District Court had declared the company's Dutch operations bankrupt on Monday.
The company sold bikes for over $2,000, and many suffered from high maintenance and repair costs while they were under warranty. The company, which was founded in 2009, is known for making sleek bikes with a simplistic design with the battery built into the frame. Reuters reports that about 200,000 of these bikes have been sold around the world.
Amsterdam police reportedly said their phone lines were being flooded with customers complaining of "theft" since they paid for bikes that haven't been delivered, or because they have bikes being repaired at the company's stores which are now closed. Unfortunately, those customers could end up being shit out of luck.
"The police cannot do anything for customers, regardless of how distressing this may be," a statement from the police, reported by Reuters, said. "A bankruptcy is a civil dispute and not a criminal issue."
The two brothers who founded VanMoof, Taco and Ties Carlier, reportedly sent an email to the company's 700 employees thanking them.
"We are sad, but above all we feel proud of what we accomplished," the email said.
Two administrators tasked with overseeing the company "are continuing to assess the situation at VanMoof," including whether it can sell assets, reorganize and continue to operate, the outlet reports. Call that a VanOof.