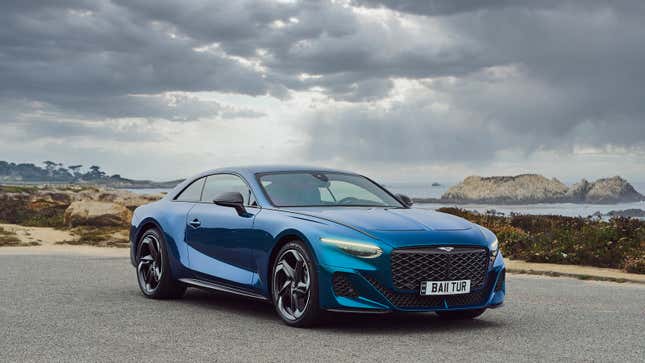 Driving a multi-million-dollar car like Bentley's Batur is weird. Not only are you trying unbelievably hard not to do anything that will damage the car, but you're also hyper-aware of everything and everyone around you, trying to ensure that nothing outside the car damages it either. Add in someone from the company who made the car sitting in the passenger seat, and you've got a generally uncomfortable situation.
But it gets weirder from there. That person in the passenger seat, they're probably talking to you, extolling the virtues of this likely very rare and exclusive automobile, and you're then obligated (if you're not a real Grade A Asshole) to engage with them politely. There is a good reason that these drives are usually quite short, and such was the case with my recent drive of the Batur during Monterey Car Week. The Batur itself made the drive a lot less weird than it would have been.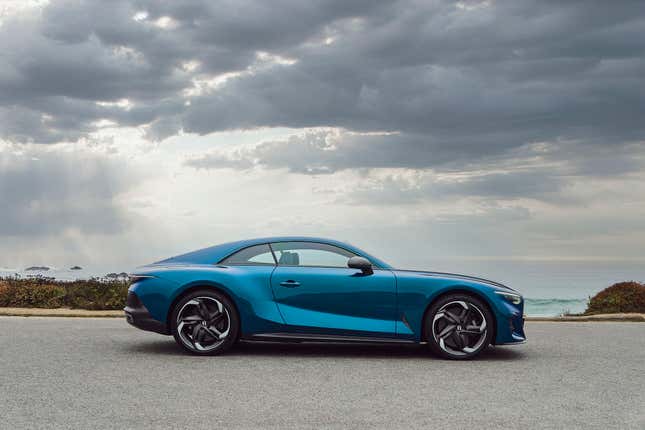 The Bentley Batur is the final form of the W12-powered Bentley Continental GT. This means that it shares the same general form factor, the same basic interior layout and mostly the same drivetrain (with a few exceptions.) That similarity to your "garden variety" Conti is good because I've spent plenty of time with the Continental, just like I suspect anyone who has bought a Batur will have. It's about as approachable as a $1.95 million car gets, but because the Batur is so customizable and has a bespoke carbon fiber body, it still feels special.

Bentley is only making 18 examples of the Batur, and they're all sold. The car I drove isn't a customer car; instead, it's one of two development cars, which means that it's not 100 percent built to the standard of the customer cars. For example, the edges of the specially knurled organ pulls that control your climate vents were sharp, which will not be the case on the production car. That said, the overall vibe was pretty damned close.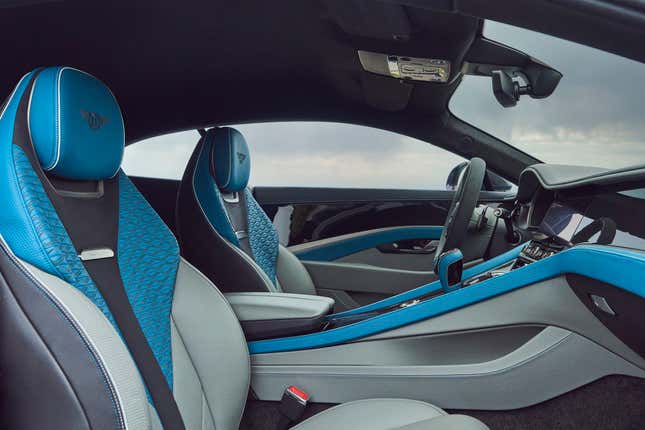 In addition to the super handsome carbon fiber body, the Batur gets special wheels, and owners can design their own color, which several owners have done. The teal of the car I drove is gorgeous and definitely suits the car, but I'm curious what the owner-designed colors are like.

Inside, things are also exceptionally customizable, well above and beyond even what's possible on a "normal" Bentley, which is considerable. The test car had teal leather with an almost dragon scale embossed pattern, plus black leather and suede. Some controls get gold inserts to set them apart from the normal cars, and our test car has a pre-production version of the $75,000-plus "Super Naim" stereo system. That's not what it's really called, but being a huge fan of the standard Naim stereo in Bentleys (it's the best branded car stereo system, full-stop), the label is accurate.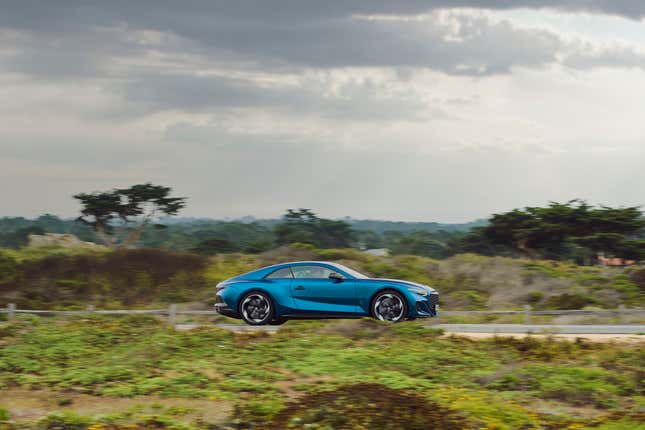 The Batur's other main claim to fame is that it features the highest output ever from a Bentley W12 engine. Thanks to a host of internal mechanical changes as well as lots and lots of tuning tweaks, the 6.0-liter W12 puts out 740 horsepower and 738 pound-feet of torque. Now, those are some pretty exciting numbers, I'll grant you, but on my very limited test drive on Monterey's 17-Mile Drive, it was pretty impossible to tell if it was any faster than the 650 hp Continental GTC Speed I drove up to Car Week. Add in that the Batur – even with its carbon body – still weighs just shy of 5,000 lbs. This is almost 2.5 ND-generation Miatas, and it's almost still 700 lbs less than the GTC Speed. In the real world, I suspect you'd never feel a meaningful difference, but what's the point of having a Bentley if you can't brag to your friends about how swift it is?

In the end, the almost two-million-dollar Bentley Batur is an impressive thing. It's remarkable in how it looks and because of its performance bonafides, but ultimately, it's most impressive to me because of how normal it feels. It feels like a Bentley, and on a car like this, that's really important because, hopefully, it will inspire owners to drive them instead of hoarding them away in collections. It's also impressive because I didn't have a panic attack driving it, which is definitely something that's almost happened before with these kinds of drives, and for that, I'm pretty grateful, so let's take a minute to appreciate approachable unobtanium.