Taking risks in life can sometimes lead to great things. If you took those risks and they made you rich enough to buy a Porsche 911 R, congratulations. I'm just not sure the risk of drifting that 911 R on a snowy mountain road is worth it, though.

In an Instagram video uploaded by powerslidelover, somebody with a nice watch does just that:
Yea, sure, there's no need for a 4x4 in the snow, but there's also no need for the immense amount of anxiety I feel while watching this video.
At least the driver seems to know what they're doing, just, you know, be careful man.
G/O Media may get a commission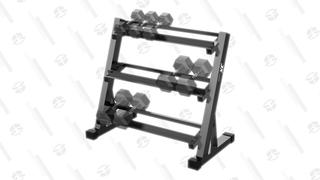 20% Off
JX Fitness Dumbbell Rack
Gains but tidy
Has a three-tier design to help store more weights more conveniently, can safely support up to 1000lbs of weight, which should be enough for most people, has a triangle base for stability, and also features anti-scratch feet which is great if you've built your own studio or workout in your garage.
Thanks for sending this our way, Nicolò!