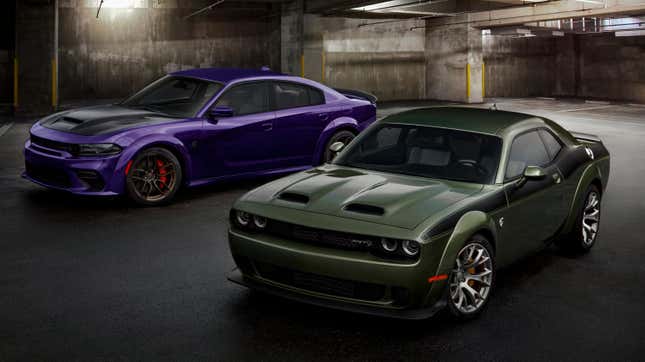 The 2023 model year is the end of the line for Dodge's Hemi-powered muscle cars, the Charger and Challenger. The brand is celebrating with a slew of special edition "last call" models with classic color combos and, of course, way more horsepower than you ever needed. If you're in the market for one of these Mopar monsters, Dodge just launched a website that will make it way easier to find the muscle car of your dreams.
It's called the Horsepower Locator, and frankly, every automaker should offer something similar for buyers wanting to score an allocation on a hard-to-find model. Essentially, it's a search tool that will tell buyers which dealers have active allocations for their preferred model. This will save shoppers so much time over the typical method of calling a bunch of random dealers with the hope that one of those stores can get you what you want.

Before you get started, Dodge wants you to read its cheeky notices that essentially boil down to the following:
Even if a dealer has listed allocations, those cars may already be spoken for.
Pricing is determined by the dealer, so you may end up paying a markup.
Even if you get an allocation, it could be a long time before you actually see your car.
The search interface is simple and easy to use. First, you choose between the Challenger and Charger and enter your zip code. Then you set your search radius and desired model or trim. Let's say I wanted a "Last Call" Dodge Challenger Scat Pack Swinger in Sublime Green with a manual transmission.
What I get is a list of dealers with allocations, ranked from nearest to furthest.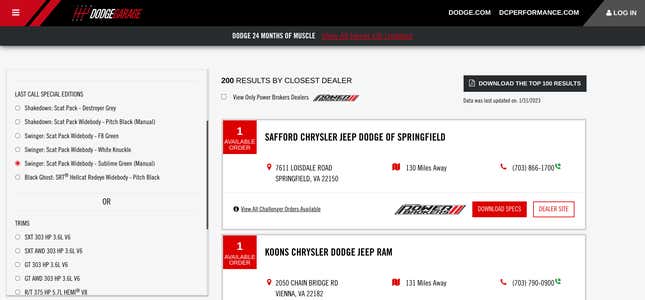 I can even view the other allocations that specific dealer has for other Challenger or Charger "Last Call" models.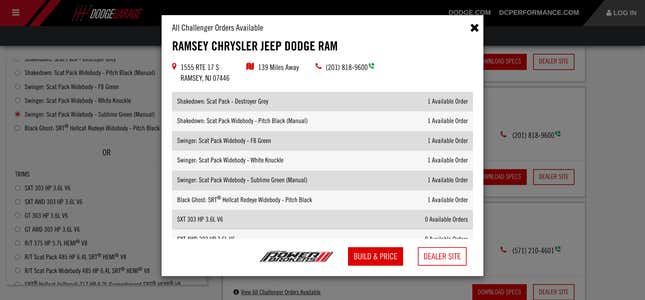 For folks in the market for the Hellcat-powered Durango, Dodge has also provided a master list of all dealers with availability.

This is an excellent system, and more brands should implement something similar, as it saves time and hassle for all parties involved. Buyers can focus on the dealers that can actually get the model they're looking for, and salespeople aren't wasting time with customers that aren't a match for the dealer. Hopefully, other automakers follow suit and even open it up to "regular" cars that aren't special editions.

---
Tom McParland is a contributing writer for Jalopnik and runs AutomatchConsulting.com. He takes the hassle out of buying or leasing a car. Got a car buying question? Send it to Tom@AutomatchConsulting.com