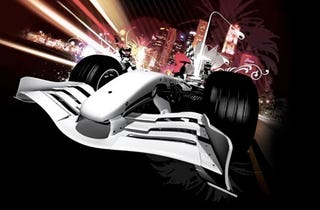 They may not be getting new Formula One engines anytime soon, but F1 fans will get to enjoy the first-ever F1 night race in 2008. The Singapore Grand Prix is set to start at 8:00 pm local time, making it the darkest F1 race in history. Italian lighting firm Valerio Maioli S.p.a. will use a state-of-the-art system to create optimal visibility while at the same time reducing glare. Full details below:

Fact Sheet
Official Title

2008 FORMULA 1TM SingTel Singapore Grand Prix
About FORMULA 1™ Singapore Grand Prix:

The inaugural FORMULA 1TM SingTel Singapore Grand Prix will take place on 28 September 2008 on a street circuit of public roads around the Marina Bay area. The race is the 15th round of the 2008 FORMULA 1™ race calendar and includes a bespoke state-of-the-art lighting system that delivers optimal visibility for night race conditions.
The race will be the first in Formula 1™ history held at night and is the first FORMULA 1™ street race to be held in Asia. Positioned as the Monaco of the East, it is the most anticipated race on the 2008 Grand Prix calendar.
Official website:

www.singaporegp.sg
Venue:

Marina Bay - in the heart of Singapore - just minutes from 5-star hotels, the MRT underground system, the bustling business district and historic landmarks such as City Hall and The Padang which form part of Singapore's heritage hub.
Start time:

2000 hours (local time)
Title sponsor:

SingTel, Asia's leading telecommunications company.
Race Promoter:

Singapore GP Pte Ltd
Sanctioning Body:

Fédération Internationale de l'Automobile (FIA)
Expected attendance:

80,000 spectators
Ticketing:

3-day Corporate hospitality packages were first released on 28 November 2007, to be followed by 3-Day general passes in mid-January 2008. 1-day ticket sales will commence before Chinese New Year, in February 2008.
Track description
Track length:

5.067km / 3.148 miles*
Race direction:

Anti-clockwise
Number of turns :

24, consisting of 14 left turns and 10 right turns
Maximum speed:

In excess of 300kph
Slowest corner:

80 - 100 kph
Overtaking opportunities:

Turn 1: Pit StraightTurn
7: Raffles Boulevard
Turn 15: Esplanade Drive
Track design consultant:

Kellogg Brown & Root Pty Ltd, Australia
Number of laps:

61*
Race Distance:

308.95 km* (*Info subject to FIA confirmation)
(If you are a maths whizz and HAVE calculated that the race distance is incorrect (5.067 x 61 = 309.087 km), here is the reason:
The start and finish lines aren't in the same places. The start line is at the beginning of the straight, while the finish line is somewhere close to the middle of the straight - hence the difference.)
Lighting System
Power

3,180,000 watt
Track Projectors

1,485 @ 2,000 watt each
Power Generators

12 (twin-power)
Power Cables

108, 423m
Overall Luminosity

3000lux levels (four times brighter than a sports stadium)
Set up

2 to 3 months, from second quarter of 2008 [CarScoop]