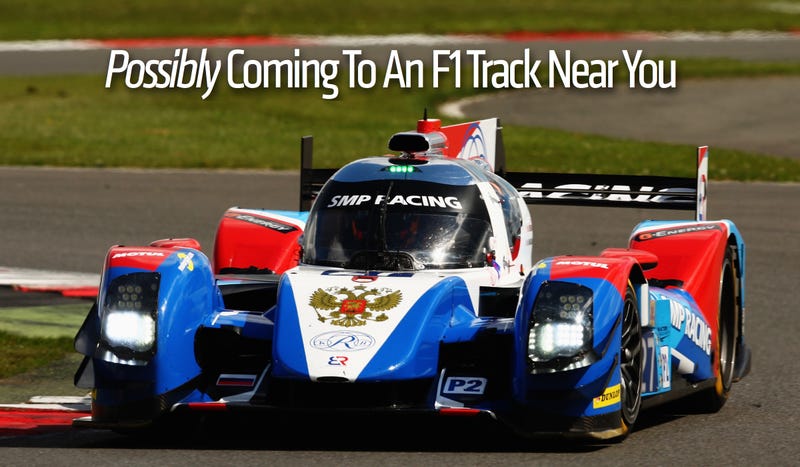 Look, if you won't keep the Russian on Red Bull's main Formula One team, the Russians might just replace it with an entire Russian team. Mother Russia cannot be held back. Mother Russia is strong like bear.

Boris Rotenberg, Russian businessman, childhood friend of Russian presidnt Vladimir Putin and co-founder of Russia's SMP Bank, admitted to GrandPrix247 that he's slowly working his way up to F1 team ownership:

The SMP Racing project is our training ground. We are slowly, step by step, preparing for F1.
This comes after Rotenberg told GrandPrix247 in February that "perhaps" SMP Racing would be in F1 someday. Perhaps. They're working on it.

SMP Racing is a team familiar to those of us who follow the World Endurance Championship closely. This year, they signed former F1 driver Vitaly Petrov to drive their their LMP2-class Nissan BR01 prototype. It's the motorsport arm of Russia's SMP Bank, which also has a Formula 4 effort.

SMP Bank is also one of the sponsors of the Renault F1 team, where Russian driver Sergey Sirotkin got some Friday practice time at the Russian Grand Prix.

Of course, we're talking about Russia here, so it's a given that there's some controversy surrounding the Rotenberg's business deals. In March 2014, around the time of the Crimean crisis, Boris and brother Arkady were put under U.S. sanctions for supporting and benefiting from Putin's pet projects, reports the International Consortium of Investigative Journalists. This included around $7 billion in contracts from the 2014 Winter Olympic Games in Sochi, a site which later became the home of the Sochi Autodrom F1 track.

More recently, the Rotenbergs appeared in the Panama Papers leak as associates of Putin who had at least seven companies registered in the British Virgin Islands, per the ICIJ report. Boris was connected to three of them. Six were formed with the help of Markom Management, a totally not-shady looking company whose website says that they provide services "to customers with proven track record of legitimate business activities." Uh-huh. Sure. The brothers' offshore companies invested in everything from a pipeline construction company to an Italian villa for Arkady's son.
It's been a weird week in Russian motorsport, and not just because of Kvyat's demotion. Private investors have expressed interest in taking over the state-owned Sochi Autodrom, reports the BBC, as Sochi continues to attract sell-out crowds. It's hard to fit grandstands along the tight circuit, though, so a sell-out for Sochi was only around 65,000 people in its debut year.

Meanwhile, in Moscow, basic race-weekend infrastructure issues cancelled the Formula E ePrix scheduled for June 4. You'd think that event would be a priority since F1 has done so well, but apparently not. Formula E was not able to book another date on such short notice.