If you're the sort that believes every crazy rumor that comes across the Internet, then interesting things are happening at Porsche. Things like a flat-8 powered Ferrari fighter that sits above the 911. But there's one Porsche rumor I desperately want to be true: a smaller, more affordable, sub-Boxster roadster. Can it be true?
Automobile certainly seems to think so. They call this car the Porsche 718, and they write about it in the future tense, not the conditional tense. They seem pretty damn sure about it.
And I hope they are, because they claim the 718 — which shares its name with a 1950s race car — will debut in 2016 alongside the refreshed Cayman. It will be based on the Boxster, sharing the same wheelbase but shorter overall and with one of those new boxer fours we've heard about, possibly in 285 and 360 horsepower versions.
Also, they say it will be cheaper than the Boxster, and lighter, weighing it at just over 2,600 pounds. Interested yet? I know I am. Automobile says this car is being done up to better take the fight to the Alfa Romeo 4C, because they apparently want to duke it out with Fiat on every end of the spectrum.
G/O Media may get a commission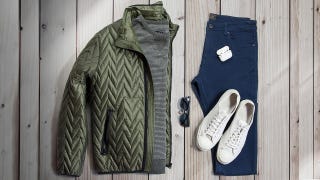 60% off
Jachs NY Fall Sale 60% Off
As always, huge grains of salt. Gigantic. Moon-sized salt. That's because Porsche has held off for years on a sub-Cayman/Boxster sports car, even as those two have risen in power and price and prestige, for fear of watering down their brand. (Because SUVs and sedans don't do that LULZ.)
It's also not hard to see their lineup getting a little crowded with this car, the Cayman and Boxster, the 911, whatever sports car they may be planning above that, and the halo cars like the 918 Spyder.
Still, it's the car we enthusiasts have been clamoring for for years, a kind of neo-Porsche 914, but done right this time. Will it come to fruition? I sure hope so. I'd love to see that square off against the 4C.