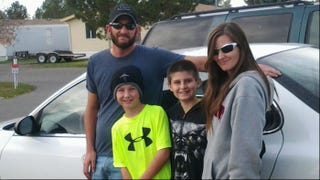 Once you have an accident with a vehicle it is hard to shake that negative association . A Seattle family was determined to be rid of their Oldsmobile after it severely injured their son. A local dealership stepped in to make sure they had reliable transportation to get to much needed medical visits
According to The Independent Record, on Sept. 13 Caine McDowell, 10, was severely injured when the family's Oldsmobile slipped off a jack and onto his head and chest. The story doesn't say why Caine was under the car at the time, but maybe he was learning the art of changing a tire.
While the family was at the hospital they told a friend and local car salesmen, Shawn Weber that they would love to never have to see their old car again. Weber works at Lithia Chevrolet and spoke to his manager about doing something for the family.
The original plan was to fix the McDowell's old car for free, but after realizing the traumatic experience the family had with their old car and how badly it needed to be repaired, the dealership decided to replace the car with something else.
The dealership even held an event to celebrate Cain getting out of the hospital and had a cake ready decorated with Cain's favorite WWE wrestler. The family is happy now that they can have something they can depend on to get to Cain's numerous medical appointments.
The original story did not disclose exactly what car Lithia had donated, but I'm sure it was much better than their 2000 Oldsmobile Intrigue.
If you have a question, a tip, or something you would like to to share about car-buying, drop me a line at AutomatchConsulting@gmail.com and be sure to include your Kinja handle.