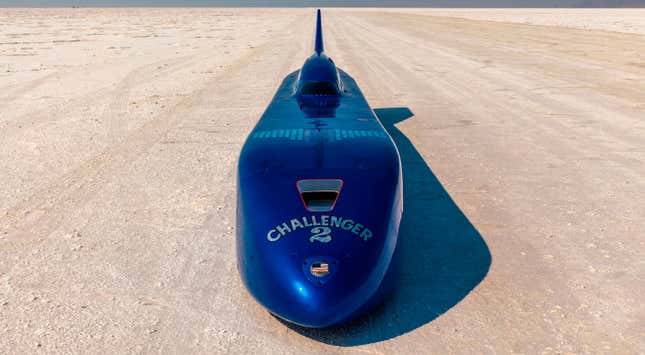 I am disappointed. In 2018 this car set a new world piston-driven land speed record. It was the most incredible motorsport story of the last decade, fulfilling a family's destiny and cementing a place in the record books. And now the record holder has told AutoWeek that he's had to sell his family legacy in order to pay for it.

The car was built by motorsport legend Mickey Thompson in 1968, and it finally fulfilled its purpose at the hands of his son Danny Thompson in 2018. Of all the go-fast companies and muscle car collectors out there, far too few of them were willing to help Danny Thompson chase his destiny. Cowards.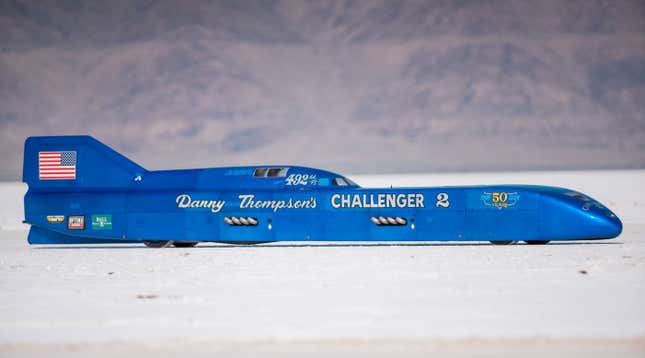 In order to get the land speed effort off the ground and complete the project that Mickey began, Danny did everything he had to. And that included taking loans and racking up debt. "I made the biggest mistake you can make in motorsports. I borrowed money to go racing," Thompson told Autoweek.

The streamliner is an incredible mechanical specimen with a pair of 2,500 horsepower nitro-fueled, dry block, naturally-aspirated Hemi engines aboard, one powering each axle to provide four-wheel drive. One engine sits ahead of the cockpit, while a second rides behind, each powering an axle. The car, with Danny aboard, tripped the timing lights at Bonneville with two runs averaged out to an incredible 448.7 mph. And Danny says the car exhibited 11 percent wheelspin on the salt, and only tried to kill him twice.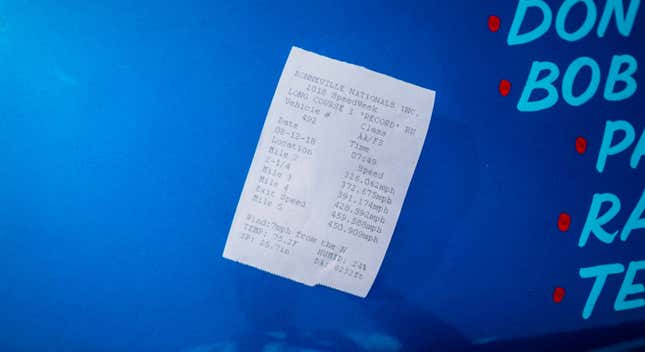 Mickey Thompson first brought Challenger II to Bonneville in 1968, aiming for a big number, but rain washed out the salt that year. Then the sponsorship dried up for 1969, and the car was put away. When Mickey and his wife were murdered in 1988, Danny drifted away from Bonneville, but the salt never stopped calling him. He came back in 2016 before finally topping the record in 2018.

Danny is now 71 years old and collecting social security. The Challenger II was the last thing he had that he could sell to pay back the debts he racked up in running the car at Bonneville. He put it up for auction at the Mecum Kissimmee sale last week, where it crossed the auction block and exchanged hands for the seemingly paltry price of $510,000. And that includes the truck and trailer used to haul the damn thing.
Juxtapose this against the ridiculous $3.7 million price pulled down by the ratty 1968 Mustang GT from the movie 'Bullitt' and maybe you'll understand why I'm pissed about it. The Challenger II was given a pre-auction estimate of between $900,000 and $1.5 million, but bidding fell well short of that and Danny removed the auction reserve to get whatever he could for the thing.
Who needs the Hollywood star power of a movie prop when you could have the real-deal horsepower of a proper world record holder? Congratulations to the new owner of this 450 mph rocket, you got a hell of a deal. It sucks so much that a living legend like this was not valued higher.
More from Autoweek:
Thompson tried to put on a cheerful face, but if you looked hard – well, this hurt. "A knife in my heart," he said earlier.


It was nearly $400,000 less than the lowest bid Mecum expected. Is it enough? Would it help?

"Oh yes," Thompson said. It will get them back on their feet. But watching the truck roll off the block and out the door – "That car has been part of my life for 52 years," he had said earlier.

And now it wasn't.
Folks, it breaks my heart.