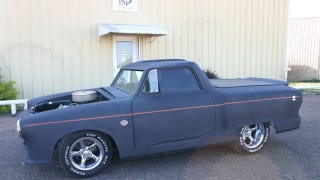 Any vehicle that is post-op car to car-truck hybrid is bound to be a bizarre creation, but switching a rare example of a long defunct brand like a 1953 Nash is pretty much guaranteed to up the strange factor even further. Behold the Nash-amino.
Although it may have started life as a fairly pedestrian and reasonably priced Nash, there is no doubt this car has been turned into something truly unique. Thanks to some bodywork of better quality than what we usually see on backyard -amino or-chero conversions, the car is certainly a breed of its own.
Beyond the obvious exterior modifications this Nash is now equipped with a small block Chevy and TH350 transmission as well. It still needs side glass as well as bed fabrication—and we aren't sure what is going on in the center of the "trunk"—but according to the seller this Nash runs and drives well.
Before the inevitable complaints about the wheels and the current "paint job" begin, we don't love them either, but if you look beyond relatively minor exterior details this custom Nash reveals its true potential. A paint job, some wide whitewalls, a little metal fabrication work and perhaps enlarging the tiny back glass could easily make this one of the coolest car to car-truck conversions we've ever seen.
Even if it is not perfect as it sits at the moment this Nash is still very cool—a fact not yet reflected in bidding on the car (truck?). Currently the high bid on this unique creation is at a mere $2075 with the reserve not met. We'll be watching the auction as it progresses throughout the week, but something tells us it will cost quite a bit more than the current bid to put this Nash-amino in your garage.
[Ebay]