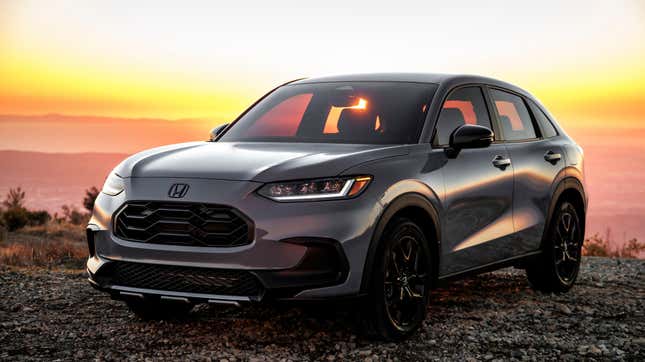 Crossovers get a lot of hate from car enthusiasts. We tend to blame them for the great sedan and wagon purge from the U.S. auto market — despite our obsession in America with big trucks and SUVs. This fixation predates the crossover craze brought on by models like the Lexus RX 300 and Pontiac Aztek, which we now recognize as the early successes and failures (respectively) of the segment.

Chase Elliott Explains the Challenge of Adapting to NASCAR's Next Gen Car
But not all crossovers are as awful as we like to pretend, nor do all crossovers offend the sensibilities of car lovers like us. In fact, some of the latest models are almost kind of neat. So, we want to know what new crossover gets a pass from you. What crossover do you secretly not hate?
Size doesn't matter — well, yes it does — but you can go compact crossover, mid-size crossover or full-size crossover. And also EV or ICE, alike. The point is not to fragment the secret crossover fans among us, but to bring us together so we can openly say crossovers are popular for a reason. After all, can so many car buyers truly be wrong?
Crossovers have lately wooed the public with their generous seating, cargo space and slightly taller ride height. I will always choose a two-door anything over a family-friendly crossover, but I admit I have often wondered whether crossovers are just tall hatchbacks. And I can easily see the appeal of something like the new Honda HR-V over, say, a new Honda Civic — all things considered, and especially under specific buying criteria.
But there's also historical precedent for the popularity of crossovers in the U.S. We've already looked at how modern crossovers have a lot in common with the earliest family cars in America, which were designed to be comfortable for drivers and passengers traveling over rough roads. Crossovers, then, are not really a departure from convention but a return to it. Maybe the reason we dislike crossovers so much is that they often lack personality, or have been content being gray blobs of nothing for the last few generations.
That's changing bit by bit as in the case of the Honda HR-V, which has design that's light years ahead of prior generations. Sure, the HR-V looks suspiciously like the friendly Ford Escape, but I'm still rooting for it. What about you? What new crossover do you secretly kind of like? Or, at least, which don't you hate? Share your secret love with us in the comments.