1st Gear: 2017 Chevrolet Cruze Beats Out Japanese Juggernauts In Consumer Reports Award
We here at Jalopnik aren't huge fans of magazine awards—unless they're our own—but there's no denying the power Consumer Reports has to not only influence the market, but also to significantly influence vehicle design. Plus, they do independent testing and buy their own cars, so they're significantly better than you're average junket lord buff book.
The power the publication has in the industry is why it's such a big deal that the 2017 Chevrolet Cruze made it to Consumer Reports' 10 Top Picks list—a list that usually includes compact cars from Japanese marques like Honda and Toyota. But not this time. Consumer Reports describes why the Cruze won, saying:
This redesigned sedan and hatchback bests two segment stalwarts, the Honda Civic and the Toyota Corolla, with an Overall Score at the top of the class. The formula is simple: Put the Malibu and Impala in a shrink ray, reducing scale but preserving the commendable driving manners and generous available features.
The publication goes on:
The result is a hushed, smooth-riding sedan that's roomy enough to be a budget-friendly alternative to a mid-sized car. The polished 153-hp turbocharged four-cylinder engine is lively yet frugal. The Cruze we tested returned a good 30 mpg overall, but look deeper into the data and you find that it achieved 47 mpg on the highway. Given that impressive figure, it might not be worth waiting for the diesel engine.

G/O Media may get a commission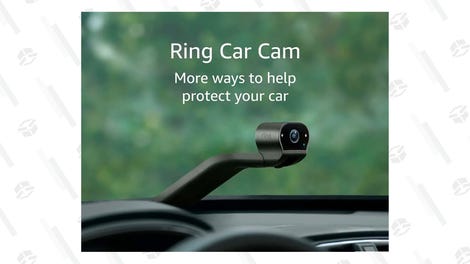 Winning a Consumer Reports award over Honda, Toyota and even Mazda in this segment is a big deal for an American automaker, so you can bet there are some corks flying in Detroit this week.

2nd Gear: Investors Can't Stop Pouring Cash Into Batteries (Even Old-School Ones)
Earlier last month, Reuters reported that investors are buying up as much cobalt (which the site reports will be found in 75 percent of lithium-ion batteries by 2020) as they can, in anticipation of a material shortage as automakers invest in electric powertrains to meet increasingly stringent pollution regulations, particularly in China.
While a rise in demand for lithium-ion battery tech may not be surprising, Reuters's more recent report says investors are also starting to pour carsh into lead— yes, the material used in old-school 12-volt car batteries. The driving force, the news site says, is vehicles with stop-start technology, which use larger batteries:
In stop-start autos the engine automatically cuts off when a car comes to a stop and restarts as the foot comes off the brake, reducing idling time and noxious fumes. But multiple stops and starts mean more wear and tear, so the batteries used in these cars need to be heavier and stronger.
Director of communications EMEA at Johnson Controls Christian Riedel told the news site:
In a smaller stop-start car battery such as Golf or Ford Focus roughly 16 kg lead are used, which is about 28 percent more than in a normal car.

So it turns out, it's not just fancy new lithium-ion batteries that are hot right now, it's battery tech in general.
3rd Gear: Uber Got Kicked Out Of California, But Now It Wants Back In
Uber's self-driving car program didn't last long in California, as the ride-hailing company had to pack up and move to Arizona after California ordered it to stop testing unless it paid for the mandatory autonomous vehicle testing permits.
Uber argued that, since their cars were accompanied by a human driver, there was no need for such a permit, but a California attorney general threatened legal action, and Uber headed to Arizona, Bloomberg reports. But now the news site says Uber is making its way back home, saying:
Last week, Uber expanded its program, which also operates in Pittsburgh, to Tempe, Arizona. But the Golden State was always at the top of the list for the San Francisco-based company.
The news site quotes an Uber spokesperson as saying:
As we said in December, Uber remains 100 percent committed to California.

It must sting a little for them, but it looks like Uber is going to play by the rules.
4th Gear: GM's Maven Is Offering Car Sharing By The Month
Car sharing has been gathering tons of traction lately, but usually when we talk about the term, it refers to essentially renting a car for a few hours or days at a time.
But GM's "personal mobility brand" (ugh) Maven wants to offer a service that allows members to borrow cars for a month at a time (well, 28 days, to be exact). GM says the service, called Maven Reserve, was originally designed to serve "entertainment and entrepreneurial communities seeking frictionless, on-demand transportation options and longer-term access to vehicles."
For example, GM says such a service might be attractive to an LA-based production crew looking to use a Tahoe for a month to transport equipment from film site to film site. The company describes what's included in the program, saying:
The curated Maven Reserve experience includes a dedicated parking space for the duration of the reservation and a personalized walk-through of the vehicle. Insurance and $100 worth of gas are also included, and there are no membership or application fees. Members can access popular GM vehicles for an extended time period without the commitment of leasing, financing or buying.
There's no word on pricing, and for now, GM says Maven Reserve is only available in Los Angeles and San Francisco, though there are plans to expand beyond those two locations.
5th Gear: The Geneva Motor Show Is Going To Be Nuts
Next week is the Geneva Motor Show, a chance for the fanciest of European automakers to show off their most gorgeous supercars and bespoke luxury-mobiles. It's going to be nuts.
Here are just a few debuts that will likely send my jaw to the floor: Pagani will show off a Huayra roadster, Ferrari will debut its 812 Superfast, the McLaren 720s will make a bow for the first time, and Renault is going to show a new Alpine!
If you're into more practical cars, Porsche will take this opportunity to show off its Panamera Sport Turismo (yes, a Panamera wagon!), Bentley's got a ridiculously over-the-top Bentayga Mulliner coming in hot, and we'll get to see the new Range Rover Velar in the flesh for the first time.
The Geneva Motor Show is always a swanky affair, but this year is going to make supercar aficionados weak at the knees.
Reverse: Tucker Car Company Closes Its Doors

On March 3, 1949, the Tucker Car Corporation folded after producing only 51 cars. The advanced Tucker 48 had been heralded as a leap forward in design, convenience, power, and safety, but production and financial problems plagued Preston Tucker's company from the start.
Neutral: What do you think about Maven's new month-long car sharing program? Do you like the idea of getting behind the wheel of a new car every month?