Consumer Reports has taken back its recommendation of the Tesla Model 3 following multiple reports of reliability issues with the car's bodywork, paint finish, trim fitment and that giant touchscreen inside.

The Tesla Model 3 has had a hit or miss reputation with Consumer Reports in the past. Initially, the Tesla Model 3 failed to get a Consumer Reports recommendation due to a braking issue, but eventually gained the recommendation after an over-the-air update fixed the car's braking distance. Earlier this month, the Model 3 topped the organization's survey of most satisfying cars to own.
But now the dark times have returned again for the Model 3 and Consumer Reports, as the publication claims the car's reported reliability issues are too much to sustain a recommendation. Here's more on the car's issues from Consumer Reports:
Model 3 owners in our spring survey sample reported some body hardware and in-car electronics problems, such as the screen freezing, which we have seen with other Tesla models. The latest survey data also shows complaints about paint and trim issues. In addition, some members reported that the Model 3's sole display screen acted strangely.
One specific issue described by Consumer Reports claims the touchscreen interface would act as if it was being touched at multiple points all at once, causing a storm of random functions to activate and deactivate. CR also claims an owner-reported issue with the car's glass cracking also occurred on the publication's own test model.
Because of these issues, the recommendation is rescinded and CR has deemed the car to have a below-average reliability score. From CR:
When the Model 3 first came out in 2017, Consumer Reports gave it an average predicted reliability score based on the survey results at the time about the Model S because the two shared much of the same technology. The car maintained its average score for predicted reliability in October 2018 based on the experiences of Model 3 owners who completed our spring survey. The new survey data shows that the car has dropped from average to below-average reliability.

G/O Media may get a commission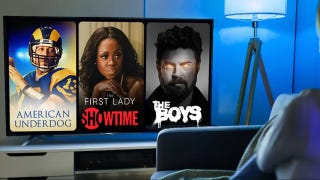 UNDER $1
99¢ Prime Video Channels
Unfortunately, this latest batch of reported reliability issues are not all easily fixed by over-the-air updates, as Tesla managed to do with the initial braking issue from last year.
While bugs with the touchscreen could likely be remotely fixed, Tesla has a track record of misaligned body panels, rough paint finishes and other issues that would require improved quality control during production to ultimately remedy.
Here's a statement sent to Jalopnik from a Tesla spokesperson:
"Not only are our cars the safest and best performing vehicles available today, but we take feedback from our customers very seriously and quickly implement improvements any time we hear about issues. That's just one of the reasons why, in this very same survey from Consumer Reports, Model 3 was rated as the #1 most satisfying car, and why Tesla vehicles have topped Consumer Reports' Owner Satisfaction survey every year since 2013 – the first year Tesla was included in it.

We're setting an extremely high bar for Model 3. We have already made significant improvements to correct any issues that Model 3 customers may have experienced that are referenced in this report, and our return policy allows any customer who is unhappy with their car to return it for a full refund. This new data from Consumer Reports comes from their annual Owner Satisfaction survey, which runs from July through September, so the vast majority of these issues have already been corrected through design and manufacturing improvements, and we are already seeing a significant improvement in our field data."
Tesla also claimed that they reached out to Consumer Reports concerning the complaints and were not provided with any more specific information. Jalopnik reached out to Consumer Reports about this and will update if we hear back.
Many of these reported issues are shared on the Tesla Model S and Model X, neither of which currently have a Consumer Reports recommendation.

As Tesla is expected to introduce a new crossover this year, along with a new Semi truck, pickup truck and roadster in the near future, this is an issue that's better fixed now than later if the company wants to avoid these headlines in the future, and better compete against a growing field of competition.
Update, Feb. 21, 2:20 p.m.: Consumer Reports shared with Jalopnik its exchange with Tesla, and it's not clear what specific information Tesla claims it requested but never received. I reached back out to Tesla for clarification and will update if we hear back.
Update, Feb. 21, 5:30 p.m.: In the conversation between CR and Tesla, there are some instances where Tesla asks for more specifics about alleged defects, such as concerns about door handles, and CR says that no further specific information could be provided, or, in the case of Tesla's question about which specific trim pieces were loose, Consumer Reports replied simply that "members complained about loose interior trim or molding," without providing further information.
In other cases, however, Consumer Reports cites an issue in response to Tesla's questions about specific glass defects, saying that, among other general "problems" with the windows, one customer experienced stress fractures in their rear window glass after delivery.