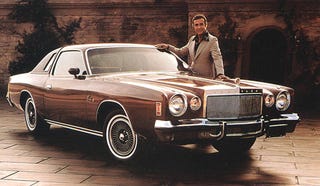 Ricardo Gonzalo Pedro Montalbán, America's favorite Mexican actor of the 1970s, turned 88 today and we'd like to take this COTD opportunity to wish him a happy birthday. Few actors from the era have their own Jalopnik tag page, but here it is. Thanks to this now infamous Cordoba commercial, every Cordoba post we do requires a Montálban joke and we're grateful to the actor for being a good sport about it and, of course, for the Corinthian leather. You're the best Ricardo. Even when you play Kahn. We have to thank LTD Scott and his love for the GAZ Tchaika 14 for giving us an opportunity to thank the primo Latin lover from the Malaise Era.
I'd totally love to have this car along with a nice Cordoba. Sounds like a nice Tchaika-Khan combination. Yeah, I know, you feel for me.
Khan... Khan... KHAAAAAAAAAN!!!!!