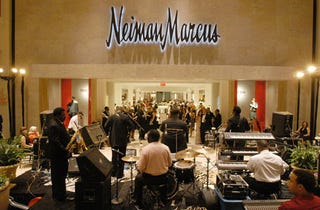 Albert Lincoln Neiman, along with his wife Carrie and her brother Herbert Marcus, started a successful business promotion operation around the turn of the century. They would create a stir with music and banners around special sales at stores, which sounds unimpressive now but netted them a great deal of money and helped establish the practice. They were able to spinoff the company and were offered $25,000 for their store or the statewide franchise rights to a new product called Coca-Cola. They chose the $25,000 and founded the Neiman Marcus Company. The store has been a success but Al Neiman still joked that it was a company "founded on bad business judgment." We get the appeal of a Neiman Marcus Edition XJL but join Chief Pontiaxe in wondering if this is necessarily a good investment.
Typically these N-M Xmas catalog cars have not held their value well, including the T-Bird (neither the 1970 nor the 2001 models).

Here is rundown:
1970 "His and Hers" Ford Thunderbird
1995 BMW Z3 James Bond edition (at $35,000)
1996 GMC Suburban Sony edition
1997 Audi TT
1997 Ducati 748L
1998 BMW X5
1998 Aston Martin DB7
2000 Lexus SC 430
2001 Ford Thunderbird (200)
2002 Cadillac XLR (101)Exclusive color was Burnt Cherry with Sand leather.
2003 BMW 645Ci
2004 Maserati Quattroporte (at $125,000)
2005 Lexus GS 450h (75 at $65,000)Crystalline Ice Exclusive Exterior color.
2006 BMW M6 Convertible only, Exclusive color was Ruby Black Exterior with Piano Black accents.
2007 Lexus LS600hL (100 to commemorate the Centennial of Neiman Marcus. Exclusive Exterior color is Truffle Mica.)
2008 BMW 7-Series (new 2009 completely redesigned 7 series, Exclusive Color was Diopside Black with Champagne Merino leather.
But who wouldn't want a used Sony edition Suburban?