Winter is the goddamn worst for travel. This is a fact.
Today we highlighted 10 holiday travel stories that range from hilarious to heartbreaking. But reader mtdrift missed the cutoff, so here he is with a crazy travel tale that deserves to be told.
It's long, but oh so worth it.
I missed this QOTD, so here goes mine, 2006.

We're trying to get from Boston to Casper, Wyoming for Christmas. The plan was my brother would pick up me and my wife at DIA on his way driving up to Wyoming from New Mexico. If you remember, this was the year DIA shut down permanently due to a massive blizzard; 40,000 stranded travelers basically had to live in the airport for three days:
Thursday, December 21st, 2006:11:00 am EST – We begin packing in preparation for our flight, which is scheduled to leave Boston at 5:30pm.

11:30 am – Mom calls (thanks mom) and informs us that American Airlines has just canceled our flight from Dallas to Denver.

11:35 am – I confirm this on the Internet and starts thinking about what the best course of action is.

11:40 am – My wife's aunt calls and asks if we are still going to make it to Wyoming. We're not so sure.

11:42 am – Mom calls again and tells us that Denver International Airport has officially shut down and will remain so until at least 6pm on Friday.

11:45 am – I call my brother and find him stranded in Raton, New Mexico because I-25 is completely closed for the entirety of Colorado, from the border of New Mexico to the border of Wyoming. He drives back to his home in Albuquerque.

11:50 am – I call American and ask if we can fly into any other airport in the region. We are told that all flights in the Intermountain West are booked solid. The soonest we will be able to fly from Dallas to Denver is Christmas day, which would still put us over 200 miles from where we want to be.

12:00 pm – I ask if we can cancel the leg from Dallas to Denver and just rent a car and drive. I am told that if I cancel that leg of the flight then we lose all legs of the flight – including from Boston to Dallas, and the flights back home to Boston.

12:05 pm – We decide that we will fly as planned to Dallas, not tell American, rent a car, and meet my brother in New Mexico. The three of us will then drive north together. This means giving up our seats on the return flight, but we are willing to lose those seats rather than stay stranded in Dallas for three days.

12:10 pm – I call my brother and mom to inform them of the plan. Dad says that they will pick up the cost of our tickets home! One crisis solved.

2:30 pm – We leave for Logan.

5:40 pm – The plane takes off for Dallas.

8:50 pm CST – We land in Dallas, eat at a sad Chilis, and rent a car, bound for New Mexico.

9:50 pm – We check into our hotel and fall asleep.

Friday, December 22nd, 2006:

7:30 am – We wake up and get ready to go.

8:50 am – We check out of the hotel and head to breakfast at Mimi's Café.

9:00 am – We eat our breakfast surrounded by Texans. They frighten me. I feel scared and exposed.

10:00 am – Surviving breakfast we head out of Dallas, follow the ridiculously bad road signs, and end up driving south rather than west. Fuck.

10:15 am – We finally get on the right highway, in the right direction, and are on our way.

10:20 am – Given the choice of Christian, Top 40 Country, or Top 4o Country radio stations, we choose a Christian one. I learn from a very nice preacher that even as Jesus, though equal to the Father, willingly submitted himself to God's will, so must a wife submit to her husband and in submitting to him be sanctified.

Men have responsibilities, too, though. They must love and meet the needs of their wives. I am just about to be told by the preacher what my wife's needs are when, at. . .

10:27 am – I am pulled over by Officer Molina. I have been traveling 75 in a 70 zone in my goddamn Saturn. Officer Molina seems more interested in chatting than in giving out tickets and, when learning of our predicament, gives us only a warning. I am amazed that we aren't ticketed, sure that one look at a Massachusetts license would have done the trick.

I never do learn what my wife's needs are.

3:00 pm – We eat at the Big Texan steakhouse in Amarillo. Here, if you can eat a 72 oz steak (with all the trimmings) in under an hour, it is free. We pass on this challenge, eat a nice lunch, and head on.

4:30 pm – We cross into Mountain Time and New Mexico. The soul-crushing flatness of West Texas has not killed us. We have survived and, I think, become stronger.

7:30 pm MST – We meet my brother at his place. He is a graduate student at the time, and he has cleaned the apartment, washed the sheets, and made the bed for us. For a moment we are certain that we have the wrong apartment.

8:05 pm – The car is returned and we head to dinner at an excellent restaurant featuring "New Mexican Cuisine" (known as West-Mex in my world). I have the best tacos and salsa in my life.7:45 pm – We leave to return the rental car at the ABQ airport. My brother takes a wrong turn. We laugh at him.

9:oo pm – We pick up some beer, head to my brother's apartment, talk for a while, drink all that beer, and go to bed.

Saturday, December 23rd, 2006:

6:30 am – I get up and shower.

7:05 am – My wife begins her yoga routine in the living room where my brother has graciously offered to sleep on the couch. He had assured her that this would not bother him. Apparently she didn't tell him that the background music in the CD she uses is provided by a pan-flute. He wakes up angry, telling her that if he had his way he would gather all the pan-flutes in the world, put them in a big pile, and set fire to it.

7:30 am – My brother gets up and somehow manages to shower and pack and clean up his house a bit before we head to breakfast at Busters.

8:15 am – We eat breakfast, meet a few of my brother's friends, take a quick spin around his neighborhood, and head north.

2:15 pm – We stop at a Sonic in Pueblo CO, which is set up like an old style drive-in. Wanting to stretch our legs and thinking there is an indoor dining room, we enter through the main door only to find ourselves smack in the middle of the kitchen with the entire staff staring at us like we are stupid.

We are.

3:15 pm – We start driving through Denver. There is not much traffic, but a TON of snow, unreasonable amounts. According to the news, hundreds and hundreds of flights are still cancelled, people are still stuck in the airport, and a man trying to rent a car to drive one way from Denver to Billings, MT has been quoted a price of $1200. We feel extremely lucky that we are on the road, even if we are exhausted.

5:00pm – We cross into Wyoming! Hooray!

5:25 pm – We start driving through an insane ground blizzard. For those of you who don't know, the snow in the West is generally very powdery and fine. When the wind kicks up (and I mean hard – gusts up to 50MPH) the snow gets blown across the road violently, obscuring the road and anything else beyond the windshield. This is a ground blizzard.

5:45 pm – We are still in the ground blizzard. Our speed has dropped to about 10MPH.

6:15 pm – Still in the snow. We count about 12 cars in the ditch on either side of the road.

6:30 pm – Still in the blizzard. We curse Wyoming in December.

6:45pm – The wind stops, the road changes direction, and we can finally pick up speed.

8:oo pm – We arrive in Casper. One flight, two cars, a dodged speeding ticket, and 1300+ miles later we are home for Christmas.
Never go outside.
Contact the author at patrick@jalopnik.com.

G/O Media may get a commission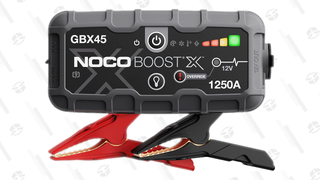 13% Off
Noco Boost X GBX75 Jump Starter