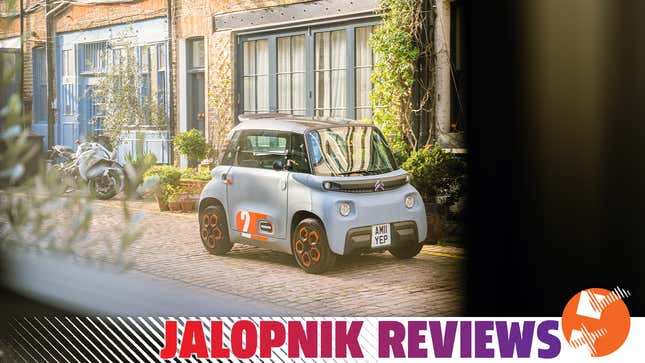 One of the most talked about, universally loved, and hankered after cars of the last few years isn't German, doesn't have a brace of turbochargers, and won't require a fresh mortgage to buy. It's also not technically a car. The Citröen Ami is a quadricycle. And a terrible car. But if I'm brutally honest, that's part of its charm.

This NYC Garage Takes Vanlife To The Next Level | Jalopnik Visits
The idea behind it is fairly simple: it's a tiny EV designed to go short distances as cheaply and fuss-free as possible. The cheapness is essential — it needs to be an affordable way for lots of people to get around, much like the Citroen 2CV was a half-century ago. To do that, the French automaker had to economize the crap out of it.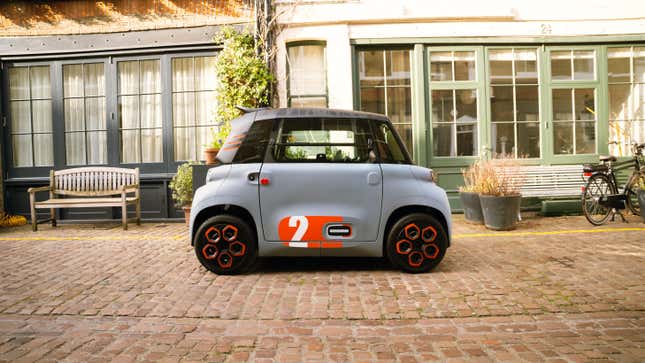 The plastic front and rear body panels are identical; red lights at the back go where you'd find headlights at the front. The doors are the same part too, the drivers' door hinged backward and the passenger side opening normally. The seats are identical molded plastic numbers, and only the driver's seat slides forward. Rather than a trunk, there's storage space behind the seats and a handy slot for your stuff in the passenger footwell. The heater fan is either on or off, no in between, and there's no A/C because that would add weight. You open the windows on a lever, folding the bottom parts out by hand — a nod to the 2CV. There's no infotainment system save for a phone cradle and a USB-A charging port beneath it — though Citröen will sell you an Ami themed Ultimate Ears bluetooth speaker for 143 Euros that fits into a slot on the dash so you needn't drive by the sounds of a tinny phone speaker.
Citröen has spent no expense on the powertrain either. A 5.5-kWh lithium-ion battery feeds an 8-horsepower, 29-lb-ft motor that drives the front wheels. Performance-wise, you're not going to be blown away: The Ami scoots to its limited 28-mph top speed in around ten seconds. Drive it sensibly, says Citröen, and you can get a little over 46 miles from a charge. Hoon everywhere at 28 mph and you'll get much, much less. With a heavy foot and cold weather, I managed high 30s at best.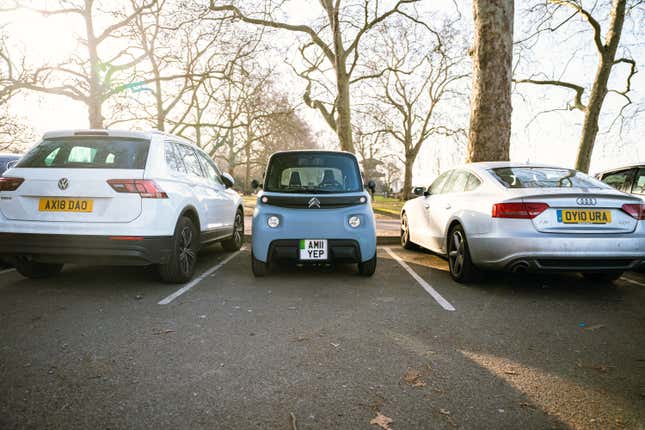 To keep costs down, there's no fancy electric architecture to enable fast charging, so it takes about three hours to charge on a standard European 220V home outlet. (The Ami also lacks regenerative braking, relying solely on discs up front and drums at the rear, not to mention the aerodynamics of a brick. The charging cable comes bundled in the bodywork with a European-spec plug — I needed a converter to charge from my home in London. It does, helpfully, come with a Type-2 adapter so you can use public charging stations should you get caught short while out and about.

All that cost efficiency means the finished product kicks off at around £7,600 (roughly $9,140 at current exchange rates). In the UK, you can have a brand-new Ami for $24 a month after popping a deposit down (with a hefty final payment). To put that into perspective, a pair of Nike Vaporfly running shoes will set you back a little less than 10 months of Ami driving, and they apparently last only six and a half Ami charges, according to The Marathon Handbook.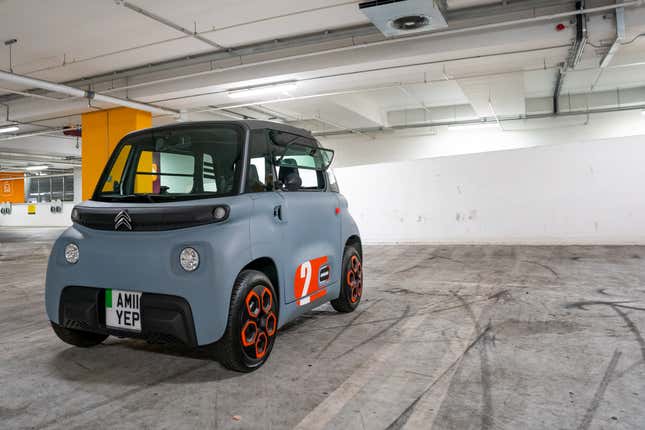 The Ami Pop model I reviewed came with jaunty stickers and a charming, if utterly needless, spoiler to draw the eye. Even without the stickers, you're gonna grab attention in an Ami. Mostly because it's so unusual: A tiny grey box with wheels. Its little headlights make its face beam, and next to pretty much everything it's positively microscopic. At just eight feet long, four and half feet wide, and five feet tall, it's conspicuous in its stature. Strangely, it doesn't feel tiny inside. Because it's technically not a car, it doesn't need silly things like side impact protection bars or airbags. There's loads of glass which makes the whole cabin feel large. Dinky dimensions help in other areas too: The turning circle is tiny at just 23 feet. You rarely need to do a three-point turn, and it'll obviously fit in any parking space.
There's room for two average-sized humans to sit side by side and not rub knees, and the luggage space behind the seats means you don't have to ask your passenger to stuff bags under their thighs. Those seats, however, aren't very comfortable — big slabs of plastic with some thin padding in key areas. If you're on the road for more than an hour, the feeling in your ass will become a distant memory.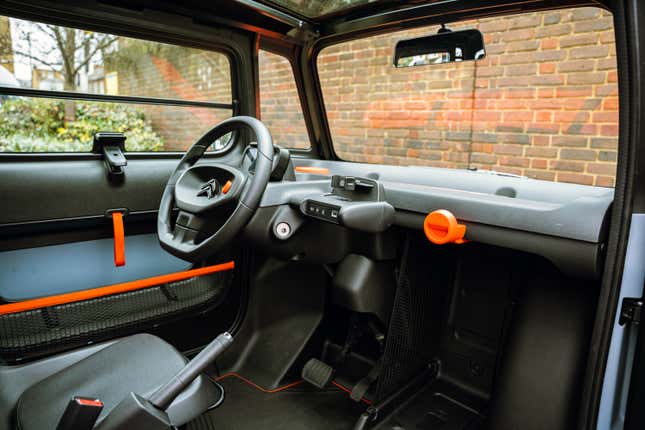 You'll not be surprised to hear that the Ami doesn't feel remotely quick. While initial pickup off the line can feel briskish, once you're above, say, 10 mph it feels like a slog to get to the 28-mph hard limit. I was pleasantly surprised when the Ami Pop spun its tiny tires off the line on a damp morning — it almost felt like a micro-scale hot hatch, though the sensation was fleeting. What really stood out was how easily you can throw it around. All the weight is in the bottom of the car; anything above the floor is pretty much plastic or glass, and the wheels are pushed as far to each corner as possible. You'll never travel at record-breaking speeds, but you can (and definitely will) hustle the little box around city streets without worrying whether it'll fall over. The steering wheel itself (plastic, of course) is chunky to hold, and offers decent feedback for what the car is. A 911 it ain't, but that's not really the point.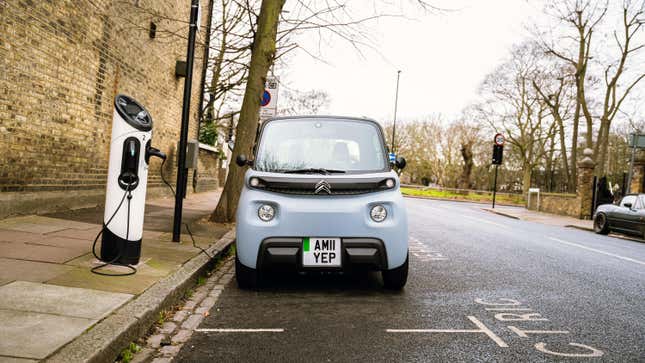 That all sounds rather jolly, doesn't it? I'm afraid it's not all vin and pétanque. The Ami has absolutely zero sound proofing, which means you hear everything: The motor's electric whine, the plastic body flexing and creaking, people outside, all fired unrelentingly into your face. The ride is jarring, too, as the suspension springs are miniscule and travel is limited — there's a pseudo-MacPherson strut setup on the front and trailing arms at the rear, both very, very small. You'll be grateful for the lack of feeling in your backside when you go over a bump or pothole — at least one part of your body won't feel the impact, even if everything else up to your hair follicles will. Comfort, thy name is not Ami.
Also, some road users won't treat you as a real person — the toy car ahead of them in traffic is an inconvenience to be overtaken at any costs. In a small thing like this, it's quite disconcerting. Top speed feels more than quick enough for the city, but venture to a faster road and you'll likely become one constant stream of swearing and sweat.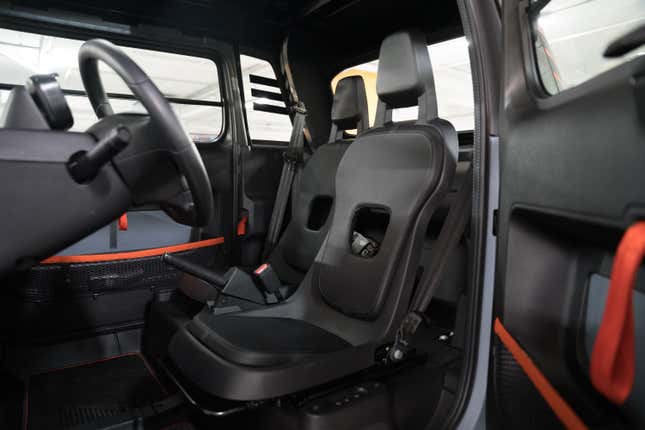 Then there's the intended environment for the Ami: the city. In theory, an electric cube to trundle around town for 40 miles is perfect for pretty much any city dweller. Sadly, that's not exactly the case. The oft-forgotten thing about city living is that it's largely apartments, and they don't usually come with an easy way to charge an EV. So you need to brave the often ropey public-charging infrastructure for a full charge, which isn't great. Those that do have driveways and plugs will be perfectly equipped, but they'll also probably have, y'know, cars.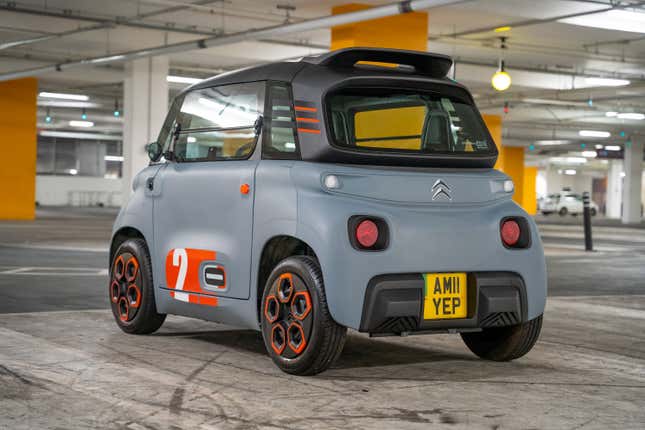 There's one type of customer for whom the Ami seems absolutely ideal: Older folk, those who might not be served by public transport but don't need the faff of "real" car ownership. And, of course, the French: In the Ami's home country, you can drive this little cube from as young as 16, two years before you're legally allowed to operate an actual car. In Spain, the Ami is legal for 15-year-olds to drive. Cheap to run, easy to drive, plenty of space for shopping or a chum. For everyone else in the city? A bicycle will probably do the job just as well.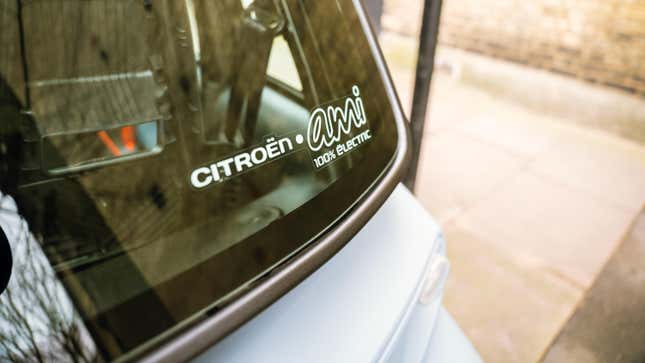 Silliness aside, the Ami's a sweet, endearing little thing. You look back at it when you get out. Kids are fascinated by it, passers-by ask all manner of questions, and it's almost impossible to drive it without a smile on your face. You can't help but love it. No wonder the name translates, literally, to "friend."