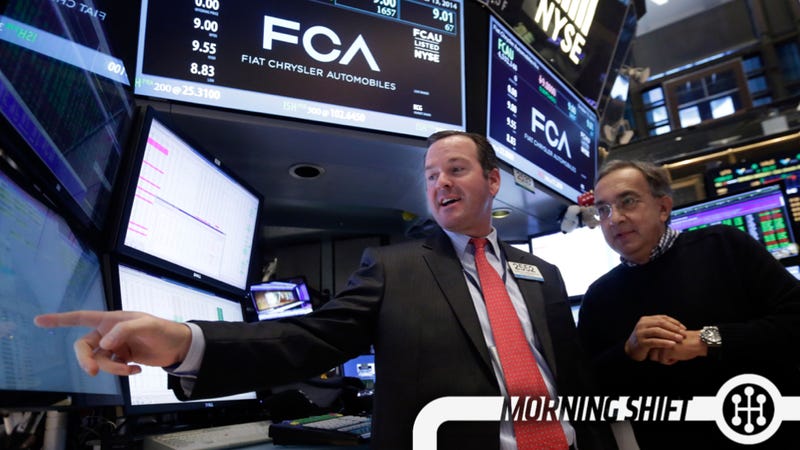 The Morning Shift
All your daily car news in one convenient place. Isn't your time more important?
This is The Morning Shift, our one-stop daily roundup of all the auto news that's actually important — all in one place every weekday morning. Or, you could spend all day waiting for other sites to parse it out to you one story at a time. Isn't your time more important?
1st Gear: Good News For People Who Like Bad News
Chrysler is growing quickly and making money — so much that their third quarter profits rose 32%. This is good news. Remember last year this time when we were complaining that the Jeep Cherokee launch was botched?
Oh well, they're selling roughly 1,000 of them for every pass the Jets receiver corps drops. That's a lot.
So what's the problem? Brent Snavely outlined it nicely last night while we were drinking blinker fluid:
Chrysler profit as a percentage of sales was 4.6% in the quarter, compared with 9.5% for GM's North American division and 7.1% for Ford's North American operations for the same period.

CFO Richard Palmer said Chrysler's profit margins are lower than competitors in North America because it sells fewer vehicles, which means marketing costs per vehicle are higher. The company's profit margins also are under pressure because it puts a richer mix of content into its vehicles than competitors that isn't always reflected in the sales price.

"Clearly, we are the fastest growing manufacturer at the moment in the U.S. marketplace," Palmer said. "As we upgrade our vehicle portfolio, we continue to focus on growing the market share, and improving our price position as we upgrade our products."
That's all well and good, but y'all need to do closer to 7-10% to make it a real business.
2nd Gear: GM Would Really Not Like To Pay $10 Billion Ignition Lawsuits
U.S. Bankruptcy Judge Robert Gerber's chickens are coming home to roost. As the judge who signed off on the government bailout he's also having to decide on whether or not GM is going to have pay for shit "Old GM" did.
GM is saying that's bullshit. From Bloomberg's report:
Car owners hadn't proved that new GM, as the reorganized company is called, owed them money because old GM denied them a chance to put in claims during the bankruptcy, the automaker told Gerber. It also objected to their claim that new GM would have compensated them if they had demanded it at the time.

"Plaintiffs' opaque hypothesis —- that they somehow could have coerced New GM to assume their alleged pre-petition economic loss claims —- ignores the following material undisputed facts," according to the filing. New GM refused to assume the claims, whether for property damage or earlier accidents stemming from its predecessor's actions, it said.
We'll see if anyone buys that argument.
3rd Gear: Carmakers Are Switching To... Hydrogen... Really?
I don't dislike the idea of hydrogen. Obviously, the fuel and the technology have a lot of advantages over fossil fuels and it's one of those areas where a sudden advance in distribution strategy or production tech could have a huge impact.
Buuuuuuttttt..... we've got a long way to go before we'll believe hydrogen is actually the future. It's why the headline "Carmakers prepare to shift to hydrogen fuel cells" is a little sketchy to me.
To their credit, this is addressed:
Car companies have been slow to put hydrogen fuel cell vehicles on the market in part because of the lack of fueling stations. Operators of fueling stations, in turn, won't build more retail outlets unless they see more fuel cell car sales.

Dan Poppe is among the few early investors in hydrogen stations. Wearing a hard hat and coveralls at his Burbank, California, hydrogen station, Poppe chews on the edges of his mustache and worries about his future.

"In 2004, we were told we'd have 10,000 cars on the road (in California) by 2009 — but it was more like 200 cars," said Poppe, whose company, H2 Frontier, builds and operates stations in California. "Today, we still only have about 250. That's not going to do it."

Hydrogen fuel cell car makers and station operators like Poppe are subsidized by the state of California, which has set a goal of having 1.5 million zero-emission cars on the road by 2025. By the same year, the state wants 15 percent of all new cars sold to be zero-emission vehicles.
Yeah, that's why we're skeptical.
4th Gear: Hyundai And Kia Would Like To Raise Fuel Economy 25%
Hyundai and Kia felt good about their fuel economy a few years ago, and then it dawned on everyone that their vehicles weren't as efficient as promised.
No, after forking over $350 million in penalties they're going back to their respective drawing boards to make more efficient engines that surpass the claims they once made.
According to Reuters they're also having to deal with more efficient competitors at home and abroad, thus they'll be investing in better turbo engines and more efficient transmissions.
How about a 13-speed transmission?
5th Gear: Women In Drag Racing
This is a story from last week I keep meaning to feature and keep forgetting about, but here it is.
Motorsports is probably the corner of the professional sports world most open to women, and I can't think of any sport that does better than professional drag racing.
For too long wrongly stigmatized as a masculine activity that embodied power and aggression, winning drag racers are a persuasive demonstration of brains being more valuable than brawn. While a significant number of women have won championships at the top levels of drag racing before, this year's group is a sizable emerging class of refined athletes. Physical fitness is a given; their mental focus has helped them carve a spot among the top ranks of the sport.

Continue reading the main story "Drivers slow down time," the N.H.R.A.'s vice president for technical operations, Glen Gray, said at the Midwest Nationals here in September. "They explain runs down the track in such incredible detail and have extremely heightened intuitive senses. The men know they have to be on their game because the women are sharp."
Cool read.
Reverse: How'd That Work Out?
On November 6, 1998, President Bill Clinton declares that part of Detroit will become an "Automobile National Heritage Area." The designation restricted land use and drew attention to what Michigan Congressman John Dingell called "the automobile's contribution to our history and economic strength and the role of organized labor in that history."
[HISTORY]
Neutral: Serious Problem Or Much Ado About Nothing? Is Chrysler's lower profit margin a big deal or just a temporary glitch?
Photo Credit: AP Images