This is The Morning Shift, our one-stop daily roundup of all the auto news that's actually important — all in one place at 9:00 AM. Or, you could spend all day waiting for other sites to parse it out to you one story at a time. Isn't your time more important?
1st Gear: Chinese Automakers Are Losing Ground In China
China's car market is brand new. And it's huge. But the proliferation of homegrown brands means that there's over-saturation. These new brands aren't established like the western corporations that are competing in China, and the sales are abysmal.
So, a number of brands are now closing or on the verge of closing. Geely has announced that three of its brands will go away and be consolidated under one Geely brand.
G/O Media may get a commission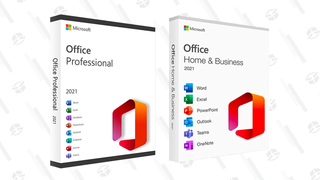 89% off
Microsoft Office Professional 2021 Lifetime License
Chinese buyers get a Chinese car because of the price and to support the home market, but then find that the cars don't feel as well built as competitors in the market, like cars from German automakers that are more expensive but feel sturdier.
As with any nascent market, the cream will come to the top and the terrible car makers will go out of business. Sounds a bit like capitalism in a communist land.
2nd Gear: GM Wants To Take On VW In China
VW in China is a force to be reckoned with. GM wants a slice of that sweet, sweet action. And they'll do that with a whopping $12 billion investment.
GM is popular in China with Buick being the vehicle of choice for basically anyone in that country, but with expected growth of eight to ten percent this year, GM needs to invest to continue that growth. That $12 billion investment will work for 2014 until 2017. They'll build five more plants and add 65 percent to the manufacturing capacity.
Best of luck GM. Best of luck.
3rd Gear: Lincoln Goes Overseas
Lincoln has never unveiled a vehicle overseas, but that just changed with the very attractive MKX Concept that was shows at the Beijing Show. It's based on the same underpinnings as the Ford Edge Concept, itself a very lightly disguised version of the new Ford Edge.
Say what you will about Lincoln, but the MKX concept is actually a quite attractive crossover. Really digging those full length rear lights. Credit where credit is due, well done Lincoln. Me likey.
4th Gear: Jeep Goes East
If you haven't noticed, the Beijing Auto Show has produced a lot of news from the Chinese auto market this morning. That includes a new deal that will see Fiat bring Jeep production to China for that market.
The Chinese market is the largest for Jeep outside of the USA, but sales also lag a little behind, most likely due to import tariffs that are placed on current Jeeps. Jeep production should enter China sometime in 2015.
5th Gear: GM's Recall Has Had No Effect On Sales
Dan Ammann, GM's President, has said that the recall has had no effect on sales of its cars in China, with a strong March and a good start to April too.
Well, yeah. But he also says that there hasn't been an effect on sales in the USA either. So even with millions of cars recalled, a congressional hearing, and calls into what they actually knew and when they knew it, GM hasn't really seen issues from its huge flub.
Reverse:
On April 21, 1967, General Motors (GM) celebrates the manufacture of its 100 millionth American-made car. At the time, GM was the world's largest automaker.
[History]
Neutral:
We saw basically no really exciting cars at the NY Auto Show. We're seeing a bunch at the Beijing Show. What are your thoughts on the importance of the Chinese market going forward, not just for sales, but for global debuts?