This is The Morning Shift, our one-stop daily roundup of all the auto news that's actually important — all in one place every weekday morning. Or, you could spend all day waiting for other sites to parse it out to you one story at a time. Isn't your time more important?
1st Gear: That's 100 Million More In The Last Four Years
Despite increasing urbanization, e'r'body in China wants to own a car and they now have about one driver in China for every person in the United States. This, of course, as China is simultaneously trying to curb pollution and congestion.
According to Bloomberg, Automakers should be selling about 23 million new vehicles this year, compared to 16-17 million in the United States.
G/O Media may get a commission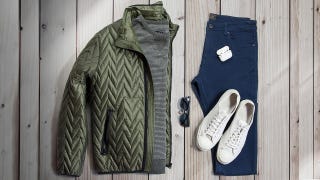 60% off
Jachs NY Fall Sale 60% Off
That is a lot of Buicks. The story also notes that fatalities are down in traffic accidents, which might have something to do with better driver education or, you know, not putting everyone in 30-year-old Toyota knockoffs.
2nd Gear: Americans Will Buy 3 Million Small CUVs This Year
Sensing a theme yet?
While we've had the occasional subcompact CUV rendered in the U.S. and sold in emerging markets like Brazil, it was Buick who first had the balls to sell one in the United States. It worked. It worked almost too well.
Now everyone is jumping in the market with Mazda launching the CX-3, Honda bringing over the HR-V, and Chevy offering an Encore sibling in the TRAX (which we're driving today). Oh, and don't forget about the Jeep Renegade.
Depending on how you count a small SUV, we'e seen the market jump from 2.5 million to just shy of 3 million this year and IHS Automotive thinks the 3.0 million mark will be broached in 2015. I agree, and actually think we could see the market hit 3.1 million.
3rd Gear: GM Down To About 1 Million Cars To Repair
It may not sound all that great, but GM is down below a million cars in need of an ignition switch replacement, meaning that they've managed to fix about 1.36 million cars.
As Melissa Burden reports, NHTSA is watching GM to make sure it's actually doing what it said it would do.
While GM wants a "100% response rate," the reality is that older cars often pass through so many owners that it's difficult to reach everyone, even after offering gift cards to people to bring their cars in. Every unrecalled car, of course, is another chance for a bad headline for both GM and NHTSA.
4th Gear: NYC Taxi Medallions Fall To $872,000
After approaching the $1 million mark, the value of an NYC taxi medallion dropped to just $872,000 in October.
You need a "medallion" to be able to operate a taxi in most cities and, because there are only a fixed number of them issues, the prices have continued to go up. Many blame Uber as it offers a cheaper alternative to getting in the people transportation game without as much cost or hassle. Oh, and I guess Lyft.
Here's my favorite quote from the Josh Barro piece on this phenom:
"I'm already at peace with the idea that I'm going to go bankrupt," said Larry Ionescu, who owns 98 Chicago taxi medallions. That might be overly dramatic; after all, Mr. Ionescu also compared Chicago's pro-Uber mayor, Rahm Emanuel, to Nicolae Ceausescu, the reviled ex-dictator of his native Romania. It's likely Mr. Ionescu remains a very rich man. In November, Chicago medallion sale prices averaged $298,000, well below the $357,000 price that was typical this spring, but far up from the $50,000 price of a decade ago.
Well, we know how it ended for the Ceausescus, but I don't see Rahm facing the same fate.
5th Gear: BMW Paying $0 For Tesla Stock
Like I said last month, this whole Tesla-unt-BMW thing sounded to me like silly garbage. Basically, any time Elon Musk speaks to anyone there's someone there to write about its significance.
I swear, we're like two weeks away from "Elon Musk in talks with In-N-Out" the next time the dude orders a fuckin' burger from the drive thru. (Side note: Does Elon Musk eat burgers? Macrobiotic fish treats?).
Germany's BMW (BMWG.DE) is not interested in buying a stake in U.S. electric carmaker Tesla Motors (TSLA.O), German weekly WirtschaftsWoche reported on Friday, citing a BMW statement.
Ok, glad that only took a week of nonsense non-news to settle.
Reverse: That's A Savings
On this day in 1913, Henry Ford installs the first moving assembly line for the mass production of an entire automobile. His innovation reduced the time it took to build a car from more than 12 hours to two hours and 30 minutes.
[HISTORY]
Neutral: Which Small SUV Would You Buy? CX-3? HR-V? Trax? Encore? Renegade?
Photo Credit: Getty Images