This is The Morning Shift, our one-stop daily roundup of all the auto news that's actually important — all in one place every weekday morning. Or, you could spend all day waiting for other sites to parse it out to you one story at a time. Isn't your time more important?
1st Gear: Hey, China's Still Cool! The Chinese government has been giving foreign businesses... well... the business over what they deem to be unfair pricing and market collusion.
European, Japanese, and American businesses have been raided, investigated, fined, and otherwise intimidated into lowering their prices. China, for their part, say they aren't picking on anyone and that it's crazy to believe that.
Of 335 antitrust cases in the country, only 33 involved foreign companies, the Ministry of Commerce, National Development and Reform Commission, and State Administration for Industry and Commerce said in a rare joint press briefing in Beijing today. Premier Li Keqiang said earlier this week that foreign companies only made up 10 percent of the nation's anti- monopoly probes.

China's anti-monopoly actions are open and transparent, said Xu Kunlin, the NDRC's director-general of the bureau of price supervision and anti-monopoly. Probes don't target companies based on nationality, Xu said.
The comments build on the government's defense of recent antitrust probes, which have scrutinized global automotive, technology and food companies operating in the country. The investigations have prompted the American and European chambers of commerce to voice concerns that Chinese authorities were targeting overseas businesses with questionable tactics.
G/O Media may get a commission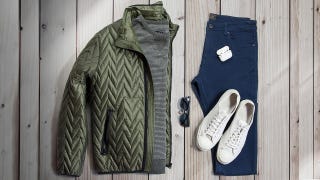 60% off
Jachs NY Fall Sale 60% Off
I'd call bullshit but I'm afraid they'll make us lower the price of Jalopnik Gold in Beijing, which is one of our biggest markets for the product.
2nd Gear: Dang, Nevada Really Wants That Tesla Plant
As has been previously reported, in order to get Tesla everything Nevada needs to move quickly to pass all the laws necessary to make Elon Musk happy. How do you do that when the state legislature isn't in session?
"An extraordinary occasion exists, which requires immediate action of the Legislature," Sandoval wrote in the formal proclamation signed late Tuesday night. He said Nevada continues to "feel the effects" of the Great Recession — "the worst economic crisis in the history of the state."

Sandoval said the lithium battery gigafactory and its 6,500 workers would generate more than 20,000 construction and other related jobs and up to $100 billion for Nevada's economy over the next 20 years — a return on investment he estimated to be $80 for every $1 the state spends.
A special session is sort of like a jump ball, so there's apparently been little opposition thus far. What there has been, as the AP reported, is a rush of lobbyists signing up to represent everyone from auto dealers to the company that puts on Burning Man.
3rd Gear: Will The Opel Karl Save Opel?
Opel and Vauxhall are just starting to crawl their way out of the hole and looking for ways to become profitable again. One trick? A car named Karl.
The five-door family car will be priced starting at 10,000 euros ($12,926) and will be launched in summer 2015 badged as an Opel Karl in Europe and as a Vauxhall Viva in Britain, Opel said in a statement on Thursday.
The car is not named for Opel CEO Karl Thomas Neumann but for one of Adam Opel's sons, although it would be weird if Ford came out with a car named the "Ford Mark" right now. Although, I suppose the Mark LT was close.
4th Gear: Daimler Spending $3.9 Billion To Reorganize German Factories
You gotta spend money to make money, and Mercedes is making money... thus it's also spending money. Specifically, they're organizing their manufacturing to be less autonomous and more codependent.
By using a number of basic modules, car makers can build several different models on the same production line. That allows them to cut upfront investment costs and better use a plant's capacity. As part of that standardization, Mercedes-Benz plans to reorganizing its factories and centralizing their management.

In the future, Mercedes factories around the world will be organized into groups based on the underlying technology for the models produced at the plants. Each group will be global and centrally managed by one executive.
Unless you're Morgan, that's the way it's going to go for most automakers.
5th Gear: Sergio Thinks His Guidance Is Just Fine
Things aren't exactly great in Latin America or Europe for Fiat right now, putting them in the same boat as a lot of other global automakers, but will that change what Sergio sees as his financial goals for 2014?
"Europe is what it is, Latin America is having a rough patch. We are holding our own in Latin America. We do have a structural advantage on our competitors in Brazil because of our cost structure," he said.

After poor second quarter results from Fiat, analysts were widely expecting a cut in guidance.

Marchionne said the third quarter should go well: "We are waiting for results for September, which is an important month. In America we are going well."
Plus, they just saved a ton of money with some strategic downsizing this week.
Reverse: I Didn't Realize This Was A Thing
On September 11, 1915, Collier's magazine publishes the second in a series of three essays on automobile travel by a not-yet-well-known writer named Emily Post. The series, called "By Motor to the Fair," told the story of Post's 27-day drive from New York City to the Panama-Pacific Exposition in San Francisco. The next year, Post published her first nonfiction book: the well-received By Motor to the Golden Gate, an expanded account of her trip. Later, of course, she went on to become one of the world's most famous and beloved authorities on etiquette.
[HISTORY]
Neutral: Are The Chinese Doing The Right Thing? Or are they being bullies?
Photo Credit: Getty Images