Not surprising: Chevrolet Cobalt owners traded in their cars in huge numbers in March, April and May in light of the ignition switch recall affecting 2.6 million cars. Maybe a little more surprising: nearly half of them bought new General Motors cars instead.
Or maybe it's not that surprising at all, considering GM's new car sales over the last few months do not seem to have been affected by the recalls at all, with sales up 13 percent in May. Even the issues with the Cobalt didn't put buyers off from getting into new Cruzes and other cars.
Analysts at Edmunds reported today that Cobalt trade-ins spiked 21 percent March-May, and fully 49 percent of those buyers opted for new GM cars instead. Of them, 46 percent bought a Cruze. Sales of the vastly-better Cobalt replacement were up 40 percent in May, and this may have had something to do with it.
Edmunds analyst Jessica Caldwell said this in an email:
"The data suggests that for the most part, recalls have not discouraged Cobalt owners' loyalty to GM and Chevy. GM has done a good job communicating new car deals to affected Cobalt owners, many of whom were probably getting close to buying a new car anyway. These deals look very appealing to outgoing Cobalt owners, especially if they personally haven't had major problems with their GM vehicles in the past."
G/O Media may get a commission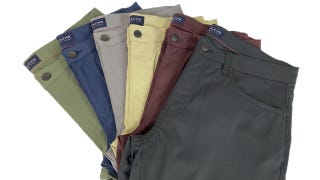 JACHS NY Fall Stretch Tech Pants
To be fair, GM's current lineup is vastly better than it was in the 2000s or really any recent decade. That's probably helping people look past the recalls.
Earlier this year GM offered recalled car owners $500 toward the purchase of a certified pre-owned car, but later offered them employee pricing on new cars. It must have worked.