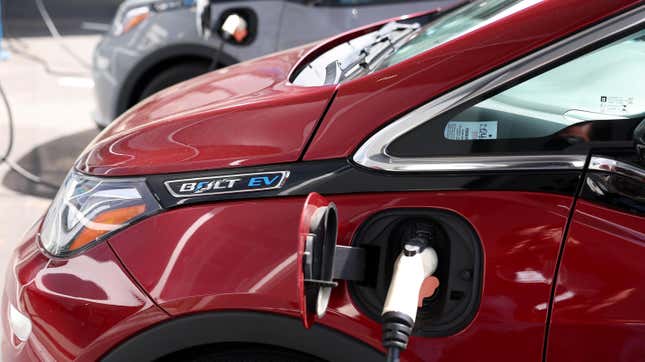 The Chevy Bolt has become something of an icon, so long as you believe that getting recalled repeatedly for battery-related issues is iconic. Now, we've learned via Carscoops that General Motors has issued a voluntary recall for the Webasto charging cables that have come with certain 2022 and 2023 Chevy Bolt EUV models. The problem is that a combination of faults in the system could lead to a user getting a shock. Not great!
Honda's Motocompacto Is The Ultra Portable E-Scooter That Can Fit Just About Anywhere
According to GM, there haven't been any recorded incidents out in real life, and testing determined that the shock would only last "1/40th of a second," which is approximately just long enough to scare the literal and/or metaphorical shit out of you.
The Webasto component in question is part number 24044913 that was included in certain Bolt packages. GM says it produced 10,825 potentially affected vehicles; 9,423 of them are right here in America.
Essentially, the Webasto charging system just isn't communicating with itself. The issue doesn't solely lie with the software or the cord itself; instead, GM believes the interaction between software and cord is causing an issue somewhere down the line. The result is that, instead of bringing a stop to charging by unplugging your Webasto charger, electricity can continue to discharge. If you've unplugged your charger by hand, that means the shock is primed to get you.
As part of the recall, GM asks all buyers of the affected 2022-2023 Bolts to bring 'em in to the dealerships for an inspection. If it's discovered that you have one of those faulty vehicles, you'll get a fix free of charge.
The Bolt has had a fraught existence on this planet. Back in 2021, GM was forced to recall every single Bolt because its battery could potentially burst into flames. Then, it had to recall more Bolts because the seat belt pretensioner could light the EV's carpets on fire. As a result, GM killed off both the Bolt EV and Bolt EUV, then announced it was actually quickly working on a replacement because its sales absolutely skyrocketed. Auto design, you fickle, fickle mistress.