The Chevy Trax is the second small CUV from General Motors and offers many of the advantages of the Buick Encore at a lower price. What do you need to know before you buy a Chevrolet Trax? Don't worry, we'll tell you everything right here in our Buyer's Guide.

Do you like the Chevy Sonic compact hatchback? Imagine if you took the Chevy Sonic and just stretched it out and made it slightly taller and bigger. Abracadabra, you've created the Chevy Trax.
While there are cars that offer more options and more style and more power than the Chevy Trax it is, at the very least, decent basic transportation with an engine and a transmission and seats with which to hold people.
What's New About The 2016 Chevrolet Trax
G/O Media may get a commission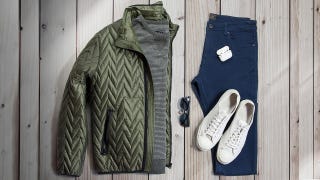 60% off
Jachs NY Fall Sale 60% Off
The Chevrolet Trax was all new for the 2015 model year. Well, sort of. This Chevy Sonic-based CUV was actually sold in international markets in 2013 and 2014 before finally coming stateside. Of course, they had to "Americanize" it before bringing it over here, so the manual transmission is gone, as are the diesel options. This leaves us with a 136 HP, 148 ft-lb 1.4-liter turbo inline-four and a 6-speed automatic transmission.
The 2016 model year Trax gets a few new colors, but is otherwise unchanged from the 2015 model.
Which One We'd Buy
All Trax models have the same engine and the same transmission so if you're going to buy a Chevy Trax you're going to want to get a deal, and the best deal is the $21,195 base LS FWD trim. Your dealer will probably give you an attractive lease rate or a decent amount of cash on the hood. If you're really good you can probably walk out with a CUV under $20,000. It is a perfectly fine vehicle for your step kid's first college car. [Build Your Own]
Important Facts At A Glance:
MSRP: $20,300 - $25,230 Max Advertised Towing Capability: Not Recommended
MPG: 26 city/ 34 hwy / 29 combined Engines: 1.4-liter turbo I4

Curb Weight: ~2,800-3,200 pounds IIHS Rating: Top Safety Pick
Transmissions: 6-speed automatic transmission
Drivetrain Layout: Front engine, FWD/AWD
Photo credit: Chevrolet