Last year, with rose colored glasses and wide open hearts, we drove the 2014 Corvette Stingray for the first time. We loved it. But was it love because it was the promise of a shiny new Corvette, or because it truly is an excellent car?
(Full Disclosure: We asked Chevy to borrow a Corvette again, they kindly loaned it to us. I got a flat tire when I had it. Flat tires suck.)
When the Corvette Stingray was released, Chevy made the usual promises that it makes every single time a new Corvette is released. "This is a world class sports car," "there are no excuses anymore," "this is the best Corvette ever," or "it's finally a 911 competitor."
It's always tough to take Chevy seriously when they make these promises, since they've been saying this about the Corvette for decades. In reality, the Corvette has always been a hilariously fun, fast, great handling car that punches far above its weight, but it has been unfairly judged because of the idea that its tech is outdated and its owner group is one stereotypical fat man.
G/O Media may get a commission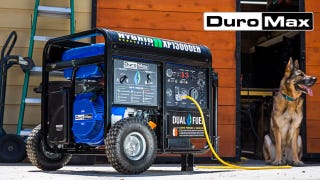 Black Friday Sale
DuroMax Generator Sale
The newest Corvette is still a bargain (the orange one pictured here is $67,000), and it came with the promise — like every Corvette before — as being better than ever. Last year we said it was one of the best sports cars to ever come out of America.
Now that the rosy newness of the Stingray has worn out, is it still as good as we remember and we think it is?
The short answer is hell yes.
The Corvette Stingray is not a car that is merely a moment in time. The circumstances around how you first drive it are not what define the Stingray, the Stingray is what defines the Stingray.
Everything that we said about the car when we first drove it still rings true. Especially the drivetrain.
Chevy's 6.2 liter LT1 V8 is a 460 horsepower monster. The sound it makes is pure classic V8. There is no finesse in the way the LT1 presents itself. Tadge Juechter, the Corvette's Chief Engineer, says the LT1 is an engine with character. It has that in spades, whether it's the sound or the sheer shock of the power, which is still surprising.
Seriously. Lost in the ether of the Corvette is that it's unbelievably fast. Faster than you think it is. Faster than anyone actually needs. Response from the engine is immediate, even when it's running on the highway in V4 mode. Which it does very well, though there is a noticeable shudder from the engine as it shuts down four cylinders. The LT1 proves that an NA spinner motor is still one of the great joys in life, even if the supercharged LT4 in the new Z06 proves to be far faster.
That's the irony of the Corvette. It's fast and eager on backroads, but relaxed and composed on the highway. It's an all around gem.
Though you can now get the Vette with what seems like a sublime eight speed auto, the seven speed manual is still a delight to use. It takes some skill and effort, but it's also a smooth, warm, buttery experience. The only problem I had then, and still have, is that downshifting from seventh to sixth is kind of tough, with a shifter that is a tad too springy and makes you find fourth nearly every time.
Fourth gear is not sixth gear.
But that's a small complaint. You aren't in seventh unless you're on the highway, and the way the gearbox and engine are matched is simply perfect. They were made for each other.
There's also the way it handles, which is with a ton of grip and a super quick turn in. The limits are very high, which I still think makes it less fun on back roads than a car with less power and grip. If you get loose on a road in the Vette, chances are the ensuing crash will force you to reconsider ever driving fast again, if you are every able to drive again.
Outside, the Vette looks exactly the same. This burnt orange is a new color for 2015 (or a leftover Pontiac GTO color from 2005) but it still looks great on the Vette. On the inside, the interior remains roughly the same, though this car has the $2,500 competition seats, also known as the first good seats ever fitted to a Corvette.
They are firm and supportive, well bolstered, and tight. If you have the type of body that people think of as a stereotypical Corvette owner, these are not the seats for you.
If anything, driving the Corvette a year later makes you realize just how good it really is. It's not like going back to your college campus to relive the glory days and being very disappointed that you really don't fit in at the library anymore. It's more akin to seeing your dog after an extended vacation.
You're happy to see him, he's happy to see you. It's just such a damn good car. It has to make you wonder just how amazing the new Z06 is. If you still hate the Corvette, you're just wrong.