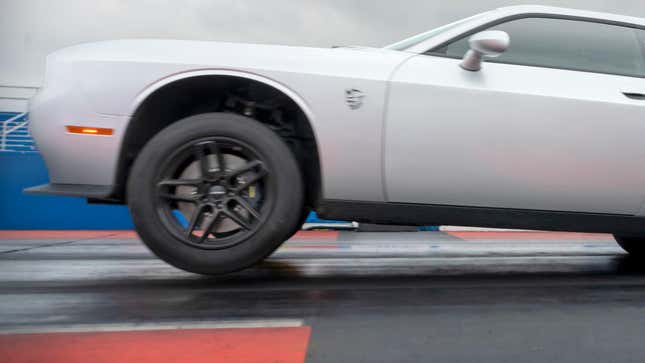 Last night, Dodge took the wraps off the most outrageous Challenger yet: The SRT Demon 170, making 1,025 horsepower on E85 and capable of 0-60 in 1.66 seconds and an 8.91-second quarter-mile (on a prepped drag strip, with a real hot-shoe at the wheel). Beyond just the horsepower, a lot of that acceleration power is down to the tires, Mickey Thompson ET Street R drag radials, which are barely street-legal and designed for drag-strip performance. The Demon 170 accentuates its skinny-front-fat-rear staggered tire setup by ditching the Widebody flares up front, but a closer look reveals that those "skinny" front tires aren't so skinny. In fact, they're incrementally larger than the stock tires you get on a base-model V6-powered Challenger SXT.
Chase Elliott Explains the Challenge of Adapting to NASCAR's Next Gen Car
The Demon 170's front tires measure 245/55R-18, mounted to a lightweight 18-by-8-inch wheel that's either fully aluminum or, optionally, aluminum and carbon fiber. The rear tires, of course, are monstrous, 315/50R-17s on 17-by-11-inch wheels. Dodge had to modify the Challenger's rear suspension to fit those meaty almost-slicks, but let's focus on that front tire for a sec, because a no-option Challenger SXT rolls off the dealership lot wearing 235/55R-18 all-seasons.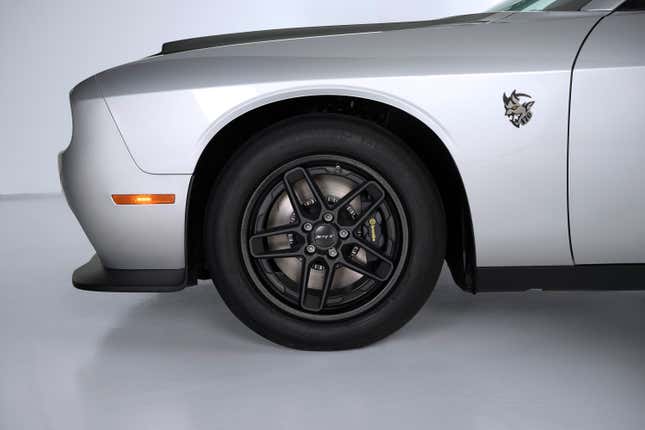 Remember how tire sizes work: The first number is the tread width, in millimeters; the second number is the aspect ratio — in other words, the sidewall height measured as a percentage of the tread width. The final number is the diameter of the wheel. So, the Demon 170's front tires are 245 mm wide at the tread and the sidewall is 55 percent of 245 mm, while the Challenger SXT's tires (all four of them) are 235 mm wide with a sidewall that's 55 percent of 235 mm.

Here's an easier way to understand it. According to TireSize.com, the Demon 170's front 245s have an overall diameter of 28.6 inches and a width of 9.6 inches; from the same site, the Challenger SXT's 235s measure 28.2 inches in diameter and 9.3 inches wide when mounted.
In other words, 245s aren't really that skinny of a tire, and they're not even the smallest tire offered on the Challenger platform to normal everyday buyers. This becomes relevant when you recall that the 2018 Dodge Challenger SRT Demon, offered truly skinny front tires for drag racing as part of the $1-option Demon Crate. Those front-runner tires were too tiny to be street-legal (hence why Dodge would only sell them to you in a box separate from the car), and apparently, the ethanol-powered Demon 170 doesn't even need those track-only skinny tires to obliterate the old Demon's 9.65-second quarter-mile time.