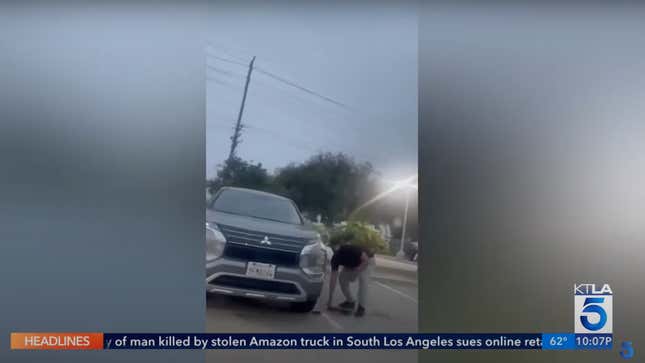 The last few years have seen catalytic converter thefts explode in the U.S. Stats show that catalytic converter thefts are up over 1,000 percent in the last four years. And the thefts don't seem to be slowing down. KTLA reports that one of the latest targets for converter thieves was a Southern California Mitsubishi dealership.
The theft went down at Cerritos Mitsubishi on June 4 around six a.m. A video captured by the dealer's security guard Jaero Barba shows the thieves allegedly attempting to steal a converter off of what looks like a Mitsubishi Outlander. Barba says that after spotting the thieves, he called the cops and then attempted to distract and get their attention by honking his horn. That's when the thieves retaliated against him.

Video shows the suspects throwing side mirrors they had broken off customer vehicles that were at the guard's car. Then, one of the suspects threw a catalytic converter at his car and shattered the window.
The dealer's service department director says that the thefts have been a continuing problem for the dealership. "This year alone we've been hit three, maybe four times, and last year, I want to say at least another four times," he said to KTLA.

The service director says that it's actually cheaper for the dealer to just pay out of pocket to get the converters replaced rather than go the insurance route. But then the thieves come back and take the converters. "It's not cheap and every catalytic converter is about $2,700," he said. The dealer is currently asking for help in identifying the thieves from the video.