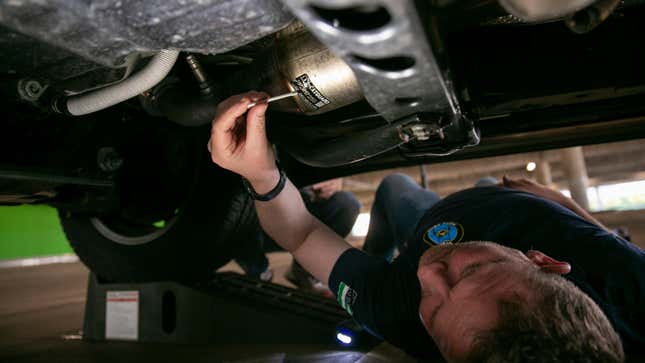 Catalytic converter thefts have plagued the U.S., all feeding an underground black market worth millions. And while some models are unfortunately targeted much more than others — no one is immune. Even one of our own here at Jalopnik had the cat lifted from their vehicle. The latest data from Allstate shows rising trend in cat thefts it's not just bad. It's insane.
There's Not Enough Lithium for All These EVs
According to data from the National Insurance Crime Bureau, catalytic converter thefts increased 1,215 percent between 2019 and 2022. In that same time period, Allstate reported that among its customers, converter replacement claims went up 1,155 percent. The percentages are unbelievably bad when you break it down by state and regions.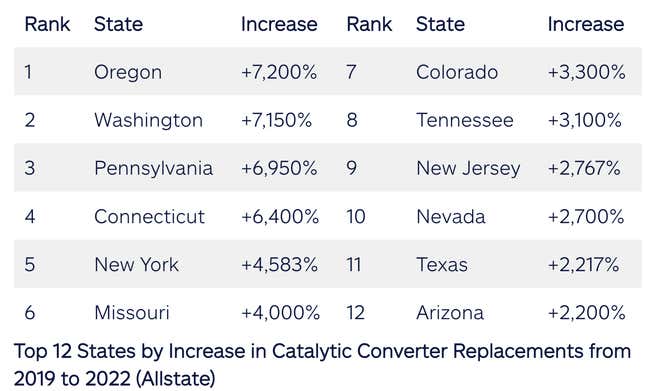 Out of 12 states that had the highest increase in thefts, the Pacific Northwest Region landed those top two spots. Oregon, at number one was up 7,200 percent while Washington State came in #2 with a 7,150 percent increase. Those thefts continued to rise despite attempts to curb them, like Oregon's 2022 law that stops scrap metal businesses from buying or receiving converters.

The rise in thefts can be attributed to greed of course. The high concentration of precious metals that the converters are made with, specifically Rhodium, Palladium and Platinum go for big money. And with the values of these precious metals continue increasing. For instance, metal value website Kitco.com fsays the value of Rhodium is currently sitting at $7,300 an ounce. At that price, of course made cat thieves are even more desperate to get their hands on converters.
Like the good neighbor that they are (heh), Allstate has provided tips to owners in helping to prevent your converter from being stolen, like parking in well-lit areas or in a garage, utilizing an alarm system or seeing if you can get help from local authorities or repair shops. But ultimately it's going to come down to automakers to stop these thefts from happening. Or everyone could just wait until the EV transition is in full swing. Thieves can't steal a catalytic converter that doesn't exist.