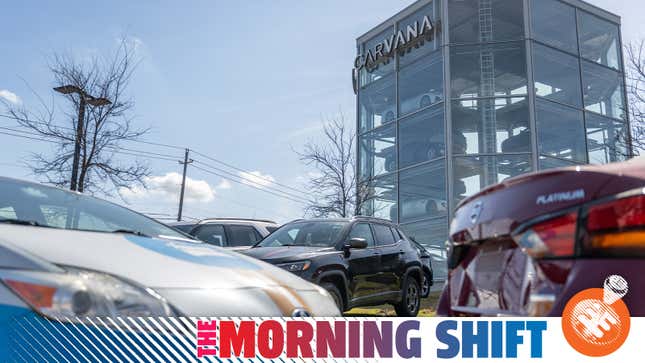 Carvana and its lenders will stop at nothing to save a poisoned brand, one in three of you reading this supposedly want to buy an EV, and sodium may be the answer to our lithium-depleted future. All that and more in this edition of The Morning Shift for Wednesday, March 22, 2023.

1st Gear: Carvana
Carvana managed to lose more than $800 million in the final three months of last year. It's now saddled with $9 billion in overall debt, and will attempt to restructure that debt with the help of its creditors. If the plan works as intended, the company will be able to cut the face value of its unsecured bond debt from $5.7 billion to $4.4 billion, and reduce annual cash interest by $100 million. From the Financial Times:
The terms of the transaction, to be launched later on Wednesday, offer between 63 cents and 81 cents on the dollar to holders of five tranches of outstanding bonds maturing between 2025 and 2030.

The bondholders would have a second priority claim, behind lender Ally Financial, on vehicle inventory and intellectual property including Carvana's brand. The bonds would mature in 2028 and carry a cash interest rate of 9 per cent per annum, versus 5 per cent and 10 per cent for the existing bonds. The company could also elect to pay up to 12 per cent interest under a "payment in kind" arrangement.

The Financial Times has previously reported that at least six prominent credit investment firms have joined forces to negotiate with Carvana. According to a person familiar with the situation, there has not been much interaction between the company and its bondholders.

One prominent member of the group, Apollo Global Management, which had bought $800mn in bonds issued by Carvana in 2022 at par, would take a significant loss should it decide to participate in the restructuring.

Participation is voluntary and Carvana says that for the deal to close, at least $500mn of new debt will have to be issued. The kind of restructuring the company is proposing can often serve as a prelude to the renegotiation terms or an entirely different agreement.
Carvana is due to release its preliminary first-quarter financial results imminently, and when it does, it's also expected to talk up its cost-cutting campaign. In this case, "cost-cutting" is mostly laying off 4,000 employees. As of three months ago, the company had all but some $430 million in the bank.
2nd Gear: America and EVs
Reuters and Ipsos today released the results of a poll illustrating how interested Americans are in purchasing EVs. The divide is mostly along party lines — which themselves are mostly along geographic lines — and strongly correlates to sticker price. In other words, it's not going to shatter your expectations.
The seven-day poll completed on Monday found 34% of all respondents would consider an EV, while 31% said no. Among Democrats 50% said they would consider an EV, while 26% of Republicans and 27% of independents said they would consider.

There are now more than 80 EV models for sale in the United States. EVs represented nearly 6% of all U.S. sales in 2022, with EV sales up by more than 60% last year. [...]

The poll found 56% of respondents would be willing to pay no more than $49,999 for an EV. In August, the Biden administration won a significant expansion of $7,500 electric vehicle tax credits and other battery and EV manufacturing incentives to shift the industry toward electric models but EVs are still often significantly above $50,000.

The poll also found that 35% wanted an EV that offered 500 or more miles of electric driving range per full charge, a distance few EVs offer today. Another 37% wanted a minimum of 300 miles.
Perhaps most depressing of all about this survey is the suggestion that more than a third of all Americans want (and are perhaps waiting) for an EV that goes more than 500 miles on a full battery. My little fossil-fuel swilling Fiesta will do 370 miles, tops. If you think you need 500 miles on a charge, listen: you don't.
3rd Gear: Mexico and EVs
Mexico is building plenty of EVs and, thanks to the Inflation Reduction Act, will only build lots more in very short order. However, Mexican people aren't driving what they're making, because they can't afford it — and the government isn't doing much of anything at all to address that. From Reuters:
EVs made up just 0.5% of domestic auto sales last year, according to Mexico's Auto Industry Association AMIA, far below the U.S. percentage of 5.8%, according to research firm Motor Intelligence. If hybrids are added, Mexico reaches 4.7%.

"There are still a number of issues that need resolving in Mexico before there's a massive influx of electric cars," said Mario Hernandez, KPMG's lead manufacturing partner in Mexico.

Hernandez said drawbacks included a lack of subsidies for buyers, high costs for installing charging devices at homes and a shortage of public charging stations, vital for longer journeys. Unlike other countries, Mexico has not yet agreed on a plan to phase out gasoline-powered vehicles, he added.

Nearly 1.1 million new cars in total were sold in Mexico last year. Just 5,600 of those were EVs, much less than the 8,400 sold in Latin America's biggest car market, Brazil.

Yet output of EVs in Mexico was seen surging to 142,000 cars this year from 78,000 in 2022, Mexico's auto parts industry group INA estimated before Tesla announced its new plant.
There's also the issue of a charging infrastructure that's even poorer than the U.S.'s. Mexico has roughly 1,100 chargers nationwide; New York alone has 9,000. The government is only now talking about a desire for electrified cars to contribute half of all new car sales in the country by the end of this decade, but experts are skeptical of the feasibility of that target.
4th Gear: Sodium's in Everything, Even Your Batteries
Lithium-ion batteries are pretty much the best energy storage technology we have for EVs at our disposal right now that can scale, but the industry is looking at a more abundant stand-in for lithium: sodium. A story from Bloomberg published Tuesday explored how some suppliers are experimenting with the element:
Sodium-ion batteries can leverage the same manufacturing processes as the lithium-ion industry, meaning the former could benefit from advances that the latter had made over the last decade. The use of similar materials and components — from electrolytes and separators, to aluminum current collectors — means this emerging technology also could benefit from the existing economies of scale.

Sodium-ion batteries are more expensive than lithium-ion today because of low volumes and underdeveloped supply chains. But BloombergNEF sees potential for material savings and energy-density improvements that would provide a viable pathway for sodium-ion cells to cost half what lithium iron phosphate cost today.

That would be a big deal. Lithium iron phosphate, or LFP, is the most common lithium-ion battery chemistry presently, due to a growing preference by automakers for its lower cost and significant energy-density improvements over the last decade.

The major challenge for sodium-ion cells are their lower energy density — cars packing these cells today would have to use heavier batteries for the same amount of kilowatt-hour capacity. The cells in the Sehol E10X use sodium-iron-manganese-copper cathodes and have an energy density of 140 watt-hour per kilogram, which reduces to 120Wh/kg at the battery-pack level. This is 25% lower than current LFP battery packs.
Sodium-ion cells have benefits of their own, though. They're non-flammable and perform better than lithium-ion in the cold. We're likely years away from such batteries entering the production line, but once we start tapping out lithium — possibly in as soon as two years — you may start hearing more about them.
5th Gear: Grandland Going Green
Stellantis' Eisenach, Germany plant will get an influx of $140 million to prepare it to build a new Opel electric SUV in the latter part of 2024, per Reuters:
The new BEV vehicle will be the successor to the Opel Grandland compact SUV currently produced in Eisenach, the automaker said in a statement.

It will be based on the 'STLA Medium' platform, one of the four platforms that will underpin all Stellantis' new models starting from next year.

"Adding a BEV to Eisenach's output supports Opel's bold commitment to a fully electric product lineup by 2028 in Europe," Stellantis said.

Current production at the facility also includes plug-in hybrid versions of the Opel Grandland.

Stellantis, the world's third-largest automotive group by sales, wants 100% of its European passenger car sales and 50% of its U.S. passenger car and light-duty truck sales to be battery electric vehicles by 2030. Its other brands include Peugeot, Fiat, Alfa Romeo and Jeep.
Of the current, internal-combustion-powered Opel Grandland, the brand says it "drives as dynamically as it looks." That actually might be the most tempered, fair claim from a carmaker's PR department that I've read in quite some time.
Reverse: This Day In 'Things I'd Stop With a Time Machine'
It was on this day 40 years ago that AM General received a contract to produce a "High Mobility Multipurpose Wheeled Vehicle." "Hmm-wiv" didn't roll off the tongue naturally, so they were colloquially dubbed "Humvees." Cute name for an absolute terror. From History.com:
On March 22, 1983, the Pentagon awards a production contract worth more than $1 billion to AM General Corporation to develop 55,000 High Mobility Multipurpose Wheeled Vehicles (HMMWV). Nicknamed the Humvee and designed to transport troops and cargo, the wide, rugged vehicles entered the spotlight when they were used by the American military during the 1989 invasion of Panama and the Persian Gulf War in the early 1990s.

In 1992, a civilian version of the Humvee, known as the Hummer, went on sale. The hulking, attention-grabbing road warrior tipped the scales at some 8,000 pounds and got less than 10 miles per gallon. It was an early hit with Hollywood celebrities such as Arnold Schwarzenegger, who went on to own a fleet of Hummers. In December 1999, when the economy was strong and gas prices were relatively low, General Motors purchased the rights from AM General to market and distribute the Hummer. In 2002, the Hummer H2, a smaller (some 6,000 pounds), less expensive version of the original model, debuted.
Neutral: I'm Not Here Tomorrow
Because it'll be my birthday. I'm going to celebrate by going out for breakfast, an activity that is sounding infinitely more appealing to me than going out for dinner now that I'm cresting 30.