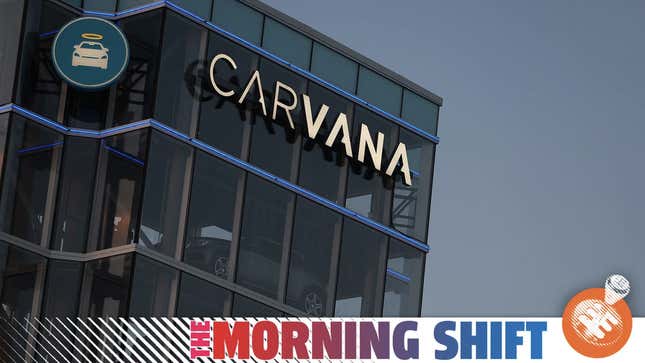 Struggling online used car retailer Carvana is doing all it can to ward off a hostile takeover — including a "poison pill" maneuver. Illinois dealers are appealing the state's direct-to-customer EV sales ruling, and BYD is taking a cautious approach when it comes to entering the U.S. market. All these stories and more in The Morning Shift for Wednesday, January 18, 2022.
Listen To The Lexus RC F Sing Through The California Mountains
1st Gear: Carvana Swallows the Poison Pill
Carvana has reportedly adopted a "poison pill" to limit shareholders from taking over a bigger chunk of the struggling company, and ward off the threat of a hostile takeover. The company has also reached an agreement to sell up to $4 billion worth of auto loans.
The loans are being purchased by Ally Band and Ally Financial, a move that will give Carvana a fresh source of funding as it attempts to restructure its operations. From CNBC:
Carvana said the "poison pill" will help safeguard its "significant" U.S. federal net operating loss (NOLs) that could be available to offset its future taxable income.

The company's ability to use the NOLs would be substantially limited if its 5%-shareholders increased their ownership, Carvana said.

Companies with large NOLs often adopt poison pills to enable them to cut their tax bill. Poison pills are also adopted to ward off hostile takeovers.

[...]

Carvana, which some analysts say is in financial trouble following a rapid expansion during the pandemic, set a trigger of 4.9% for the shareholder rights plan.
The plan took effect on Monday, and it is scheduled to be in place until January 15, 2026. After the news was announced, CNBC reports that the company's stock value rose by about 6.5 percent, to slightly less than $7.50.
2nd Gear: Illinois Dealers Really Want to Kill Direct-to-Customer Auto Sales
The Illinois Automobile Dealers Association filed an appeal in Chicago challenging a court ruling from December 2022 that allows Rivian and Lucid to continue to sell their EVs directly to customers in the state. It's a move that was expected to happen. From Automotive News:
In the Dec. 19, 2022, ruling, Associate Judge David Atkins decided the Illinois secretary of state was correct in issuing dealer licenses to the EV startups, as it previously had for Tesla Inc. The ruling opens the door for manufacturers to follow Tesla's direct-sales model. Joe McMahon, the association's executive director, previously told Automotive News the decision gives special treatment to EV makers.

Direct sales from manufacturers result in a monopoly with no price benefit, McMahon said in a Jan. 5 statement.

The state's dealer association, which represents 700 dealerships, cited the Illinois Vehicle Code and Illinois Motor Vehicle Franchise Act as stating that public vehicle sales must be made through licensed and independent franchised dealers.
Atkins says that the dominant model of using franchised dealers for new car sales is in no way mandatory under state law. Despite this, McMahon confirmed the appeal was filed on the basis of these laws
"You cannot be a manufacturer and a dealer," McMahon said. "That's in the law so we think it's pretty clear."

3rd Gear: BYD's Cautious Approach to the U.S.
Chinese electric vehicle juggernaut BYD is starting on its journey of rapid global expansion, growing substantially in just about every market — except the U.S., where BYD's biggest rival Tesla is number one in EV sales. The Chinese automaker has reportedly spent much of the last year conducting a study on how to set up a U.S. distribution network for its electric vehicles.
It was all going according to plan... until it wasn't. Tensions between Washington and Beijing, anti-China sentiment in the U.S., and President Biden's priority of bolstering home-grown EVs forced BYD to push the pause button on a big announcement at CES this year. From Reuters:
BYD's management has yet to give the project a final green light and an aggressive U.S. expansion remains unlikely for the foreseeable future, the source said.

"BYD is taking a cautious approach to the U.S.," the person said. "Think about all the U.S.-China political tensions and then think about the craziness of the whole world now. You don't want to jump into a big mess."

BYD's U.S. project was complicated by the Biden administration's Inflation Reduction Act (IRA), which imposes rules on where to source battery materials and disqualifies EVs produced outside North America for a $7,500 purchase rebate.

"Who would start selling cars with a $7,500 disadvantage?" said another of the sources.
BYD was the world's largest seller of EVs and plug-in hybrids 2022. It sold a total of 1.86 million vehicles, mostly in China, well ahead of Tesla's 1.3 million vehicle sales that year.
4th Gear: DoJ Wants Airplane Covid Mask Mandates Back
The Department of Justice has reportedly asked an appeals court panel to reverse a ruling from April of 2021 that declared a government order requiring masks on airplanes, buses, trains, ride share services and at airports and other transportation hubs to be unlawful. From Reuters:
A three-judge panel of the 11th Circuit Court of Appeals heard arguments on the government's appeal of a ruling by a U.S. district court judge in Florida that found the U.S. Centers for Disease Control and Prevention (CDC) lacked legal authority to issue a nationwide travel mask mandate to combat COVID-19.

The CDC issued the sweeping mask mandate in January 2021, days after Joe Biden became president.

A report from U.S. lawmakers in October said the Trump administration in 2020 blocked the CDC from adopting a federal transportation mask mandate.

Much of the arguments in the appeal focus on the CDC's decision to put in place the requirements immediately rather than give the public a chance to comment on the mandate.
A Justice Department lawyer, Brian Springer, said the CDC could impose mask requirements without giving the public time to comment given the pandemic emergency. Springer argued the move was necessary "to prevent the possible infections and deaths that could result if people didn't do the simple thing of just putting on a mask while they were traveling."
Earlier this month, the European Union recommended face masks for passengers flying to its member countries from China. The country is facing a major Covid outbreak after the Chinese government lifted its zero-Covid policy.
5th Gear: Tesla's Price Cuts in China Worked
Tesla's retail share has reportedly surged in China this month after the U.S.-based electric vehicle maker slashed prices on its top-selling models in early January, according to data from China Merchants Bank International.
Average daily Tesla sales in the country are said to have jumped 76 percent between January 9th and 15th, compared to the same period a year ago. Data shows that the automaker sold 12,654 vehicles over that one-week period. From Reuters:
That compared to a 14.5% year-on-year decline in overall retail auto sales in China in the same week, although sales of electric and hybrid vehicles in the country increased 36.5%, the data showed.

Tesla didn't immediately respond to a request for comment on CMBI's data on its sales.

Tesla cut prices for the Model 3 and Model Y cars by between 6% to 13.5% in China from Jan. 6 in the face of what analysts said were signs of faltering demand and intensifying competition in the world's largest auto market.
Tesla cut prices for its popular Model 3 sedan and Model Y crossover by between 6 percent and 13.5 percent in China on January 6th because of waning demand and stronger competition.
Since Tesla first cut prices in China and other Asian markets, it has followed by cutting prices in Europe and the United States.
Reverse: GM Swears This Had Nothing to Do With its Bankruptcy
Whatever you gotta tell yourself, I guess.
Neutral: These Pumpkins are Going Strong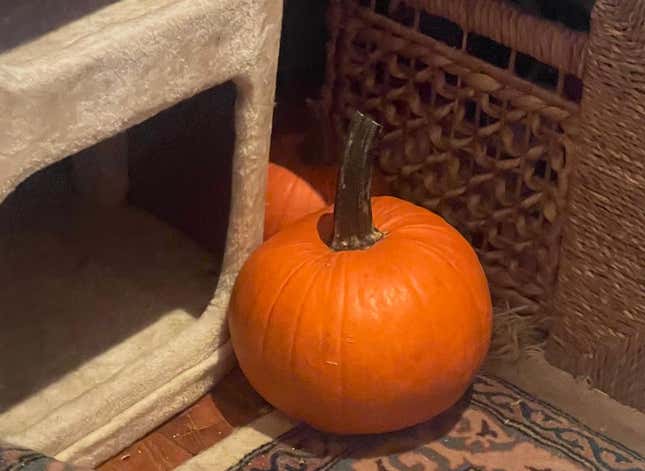 I got these pumpkins back in October of last year and they still look great. Are they cursed? I am worried about the safety of me and my cats (my girlfriend will be fine).
On The Radio: Dire Straits - 'Romeo and Juliet'