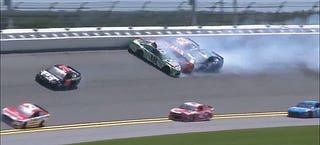 A "big one" during practice for the NASCAR Sprint Cup Coke Zero 400 collected a ton of cars, including the one driven by Carl Edwards. So, what does he do? He hops in and starts helping his crew wrench on the car, duh.

When's the last time you saw a professional driver get his hands dirty on a repair job? Edwards, you may just be the most Jalop driver of them all this weekend.

Here's the big wipe-out, which may force the likes of Greg Biffle, Jamie McMurray, Kyle Busch, Denny Hamlin, and Ryan Newman into using a back-up car for the race itself:
Ouch!
Here's a tour de carnage from the pits afterwards:
Also ouch! Either way, we're glad nobody was hurt.

---
Contact the author at stef.schrader@jalopnik.com.